PSL
Mncwango: I hope Polokwane City allow me to join Orlando Pirates soon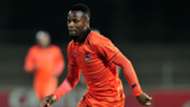 Polokwane City striker Thobani Mncwango has broken his silence about his proposed move to Orlando Pirates.
The lanky forward was suspended by the Polokwane management after he discussed Pirates' interest in his services in the media three months ago.
Mncwango recently resumed training with Rise and Shine, but he is yet to make his first competitive appearance for the club since February 2017.
"I hope they will allow me to leave at the end for the season. We haven't spoken about it, but I hope that they will cede to my request," Mncwango told Isolezwe.
"I know Pirates are still interested and at some point it looked like they (City) would allow me to join them in January but it didn't happen," he said.
"It's been a month and I have accepted my situation. I give everything at training but I know I will not be played," Mncwango continued.
"It is not a nice situation to be in for a player but I have told myself that I must let it play itself out," he concluded.
The former Baroka FC forward's Rise and Shine contract is reportedly due to expire at the end of the 2017/18 campaign.
It remains to be seen whether Polokwane will agree to sell Mncwango to Pirates during the upcoming Transfer Window.