MLS Talking Points: The Best XI at quarter mark, MLS Cup rematch and more

Ives Galarcep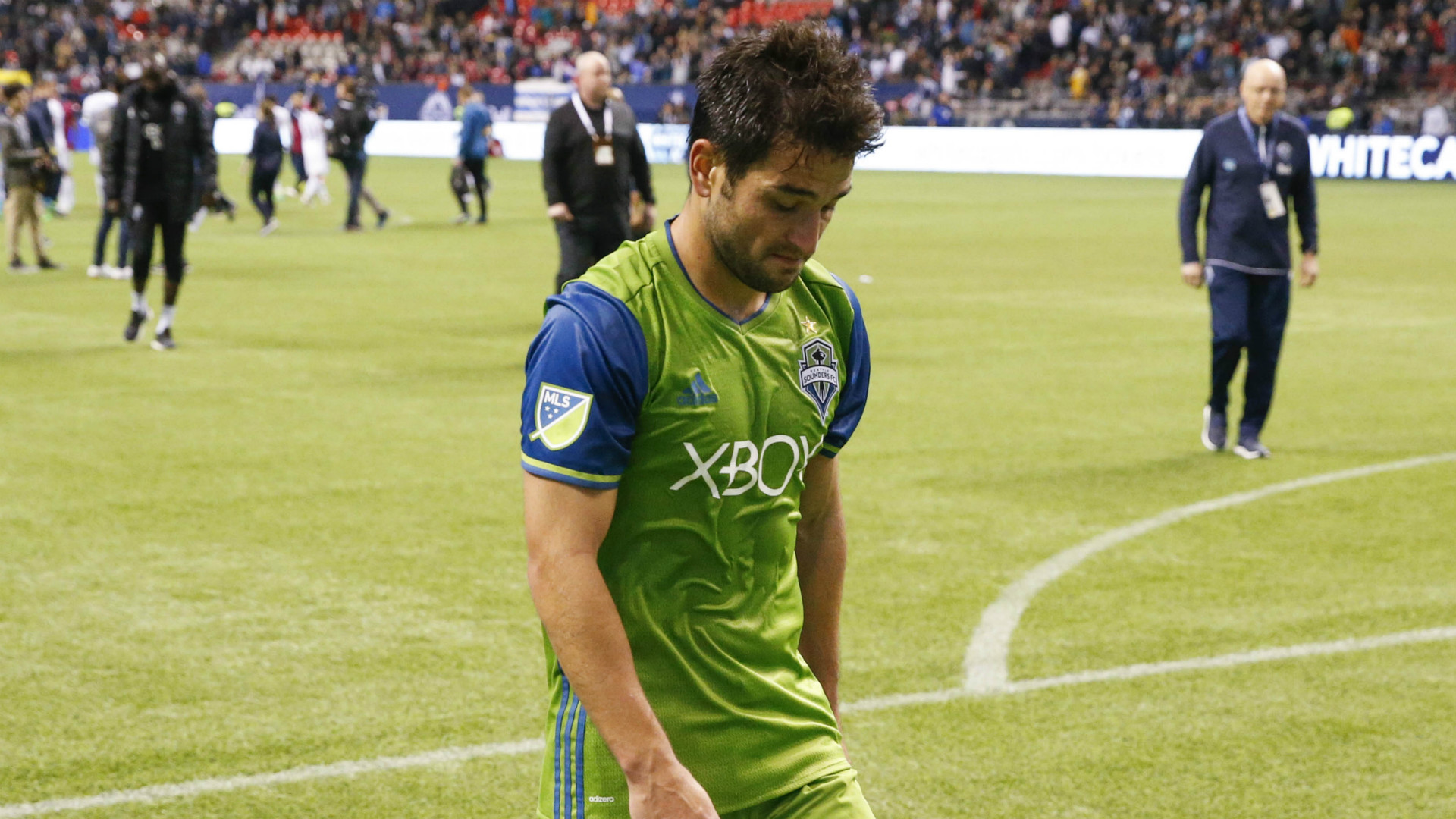 You may be surprised to hear it, but the 2017 MLS regular season has already hit the quarter mark in what feels like a blink, and we've come to the point where we can stop talking about it being too early to judge and start talking about trends that have taken root so far.
There are teams that have made considerable improvement (Orlando City and the Portland Timbers), and teams that have taken serious steps back (the Philadelphia Union and Colorado Rapids). We've seen new arrivals make immediate contributions (Jonathan Spector and Bastian Schweinsteiger), and some who have struggled to settle in (Joao Pedro and Cristian Colman). Some 2016 rookies look ready to take the next step (Jack Harrison and Alex Muyl), while some have found the sophomore slump to be a real thing (Keegan Rosenberry and Jonathan Campbell).
MLS Spotlight: Torres rejuvenated under Cabrera
As much as things have changed, we still found ourselves marveling at many of the same special players. Sebastian Giovinco is rounding into his unstoppable MLS form, while David Villa continues to build on his impressive legacy with New York City FC. Nicolas Lodeiro is showing his outstanding half-season in 2016 was no fluke, while Dax McCarty has shown that even a change of address can't change his status as one of the league's best midfielders.
Week 10 of the MLS season will offer plenty of nostalgia, headlined by the first rematch of the 2016 MLS Cup final, with Toronto FC traveling to Seattle looking not so much for revenge, but a chance to show that it is indeed the better team. Javier Morales makes his first trip to Rio Tinto Stadium in a different uniform, as he and FC Dallas look to remain unbeaten. The New York Red Bulls make the short trip to Talen Energy Stadium to face a winless and desperate Union side as close friends Jesse Marsch and Jim Curtin do battle on the sidelines.
Here is a closer look at the key talking points heading into MLS Week 10, as well as Goal's take on the league's best through the first quarter of the season:
---
THE FIRST-QUARTER BEST XI
---
It's never a simple debate when trying to whittle down the picks for a league-wide Best XI, especially when some of the league's best are starting to hit their strides after slow starts. No, Giovinco didn't make the cut, though he and teammates Jozy Altidore and Michael Bradley all have strong cases. Villa misses out, though not by much. And if you're the kind who hates seeing Best XI selections without fullbacks, then rest easy knowing FC Dallas' Maynor Figueroa and Sporting Kansas City's Graham Zusi would have been the picks if this Best XI had been deployed with a four-man defense.
There are some clear-cut choices, such as Diego Valeri and Jonathan Spector, as well as Anibal Godoy and Justin Meram, though some other positional battles were extremely close. Tim Melia edged out Orlando City's Joe Bendik, while Fanendo Adi, Altidore and Villa all had strong claims to be one of the forwards. Osvaldo Alonso came as close as anybody who didn't get chosen, as he racks up dominating two-way stats like few can.
In terms of first-quarter MLS awards, here are our picks so far:
MVP- Diego Valeri. The Timbers are one of the most dangerous teams in the league, and Valeri has been at the center of their renaissance.
Newcomer of the Quarter - Jonathan Spector. The veteran American defender has made a smooth transition into MLS, leading a rebuilt Orlando City defense.
Defender of the Quarter - Ike Opara. Both Spector and Matt Hedges have strong claims to this one, but Opara has been dominant at the heart of Sporting KC's league-best defense.
Coach of the Quarter - Jason Kreis. Loses Kaka minutes into the season and still manages to lead the Lions to first place? Easy call, though Wilmer Cabrera deserves a mention as well.
Goalkeeper of the Quarter- Tim Melia. He may not face as many shots as some others, but he has made big saves throughout the season to help Sporting KC get results even when the attack hasn't been clicking.
Rookie of the Quarter - Nick Lima. The San Jose Earthquakes fullback and homegrown player has been outstanding, and has been one of the better right backs in the league. He edges out Columbus' Alex Crognale for the honor.
---
IT'S A BIG WEEKEND FOR ... JAVIER MORALES
---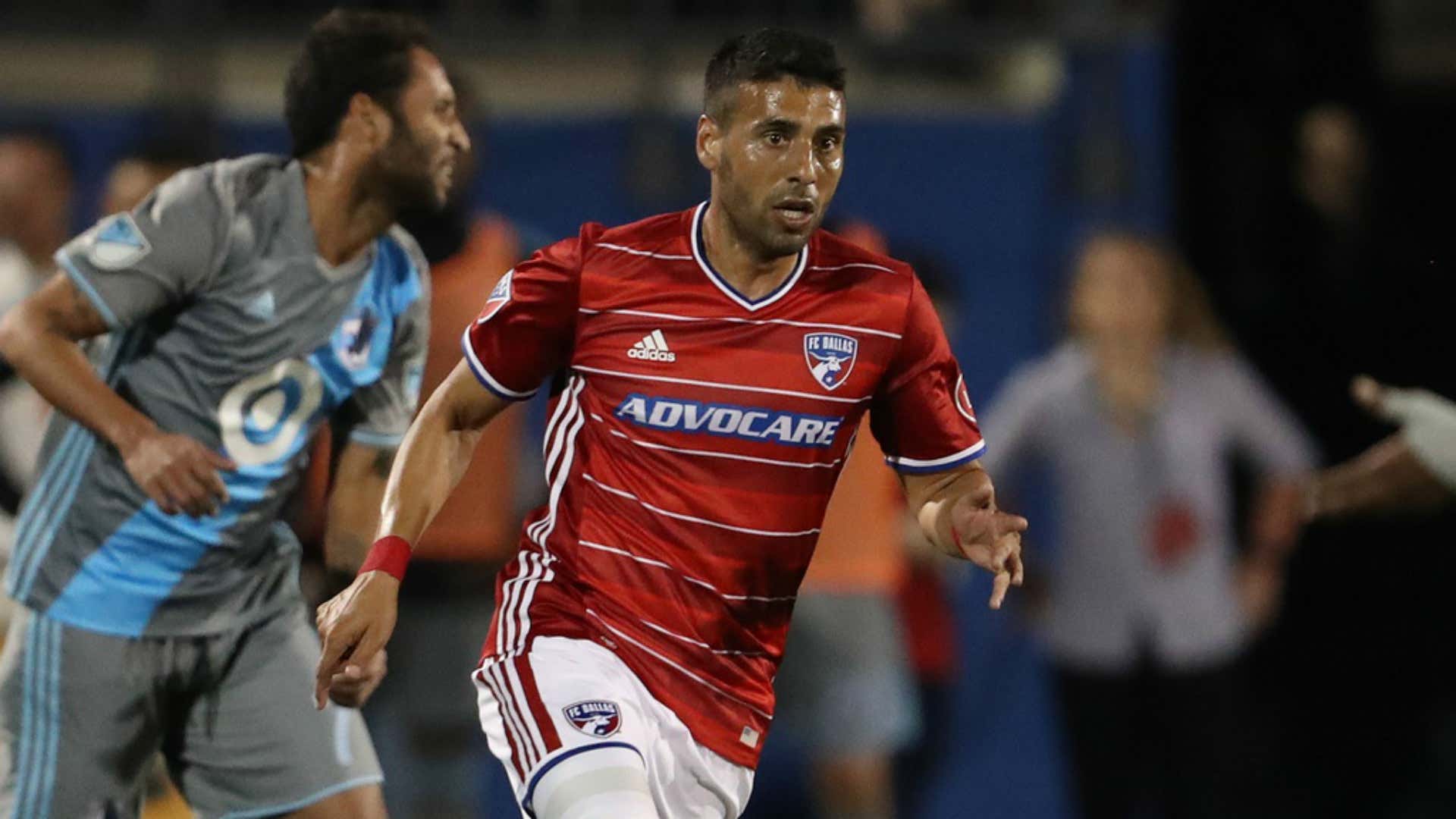 Argentine playmaker Javier Morales has helped fill the void left by Mauro Diaz's recovery from a torn Achllies, and this weekend he returns to Rio Tinto Stadium for the first time since leaving Real Salt Lake after 10 memorable seasons.
"For sure, I'm excited to go and play there in Salt Lake," Morales told the FC Dallas team website. "For sure it's going to be emotional, but to be honest I don't have [an] idea how I'm going to feel.
"When the game starts, you can have a lot of thoughts in your mind, and think about how the game is going to be, but when the whistle blows you should try to defend your team and right now FC Dallas is my team. I will try to do my best to win the game."
Morales won an MLS Cup title with RSL (in 2009) and helped lead RSL to a CONCACAF Champions League final (where the club lost to Monterrey). He returns to Utah facing a team that looks very different than the one from RSL's heyday. Kyle Beckerman and Nick Rimando are the lone remaining holdovers from the MLS Cup-winning squad, while Mike Petke took over as head coach for Jeff Cassar three matches into the season. Albert Rusnak has stepped in to fill Morales' long-time role.
RSL is still in a state of transition as it incorporates a new coach and a host of younger players, and will have enough to worry about in stopping FC Dallas to get too caught up in the nostalgia of Morales' return. RSL has lost two straight after winning Petke's first two matches in charge. Familiar problems — including a rash of injuries to key defenders — has left Petke with a patchwork back line that hasn't held up well against top attacks. FC Dallas presents that very challenge, with Maxi Urruti in outstanding form and Morales likely to step his game up against his former club.
Just a week after McCarty's emotional return to Red Bull Arena, it will be interesting to see what type of welcome RSL fans give Morales. Based on his contributions to the team, it should be a very warm one, even if there's a good chance Morales will be helping hand his former team a loss on Saturday.
---
DON'T MISS ... SOUNDERS vs. TORONTO FC
---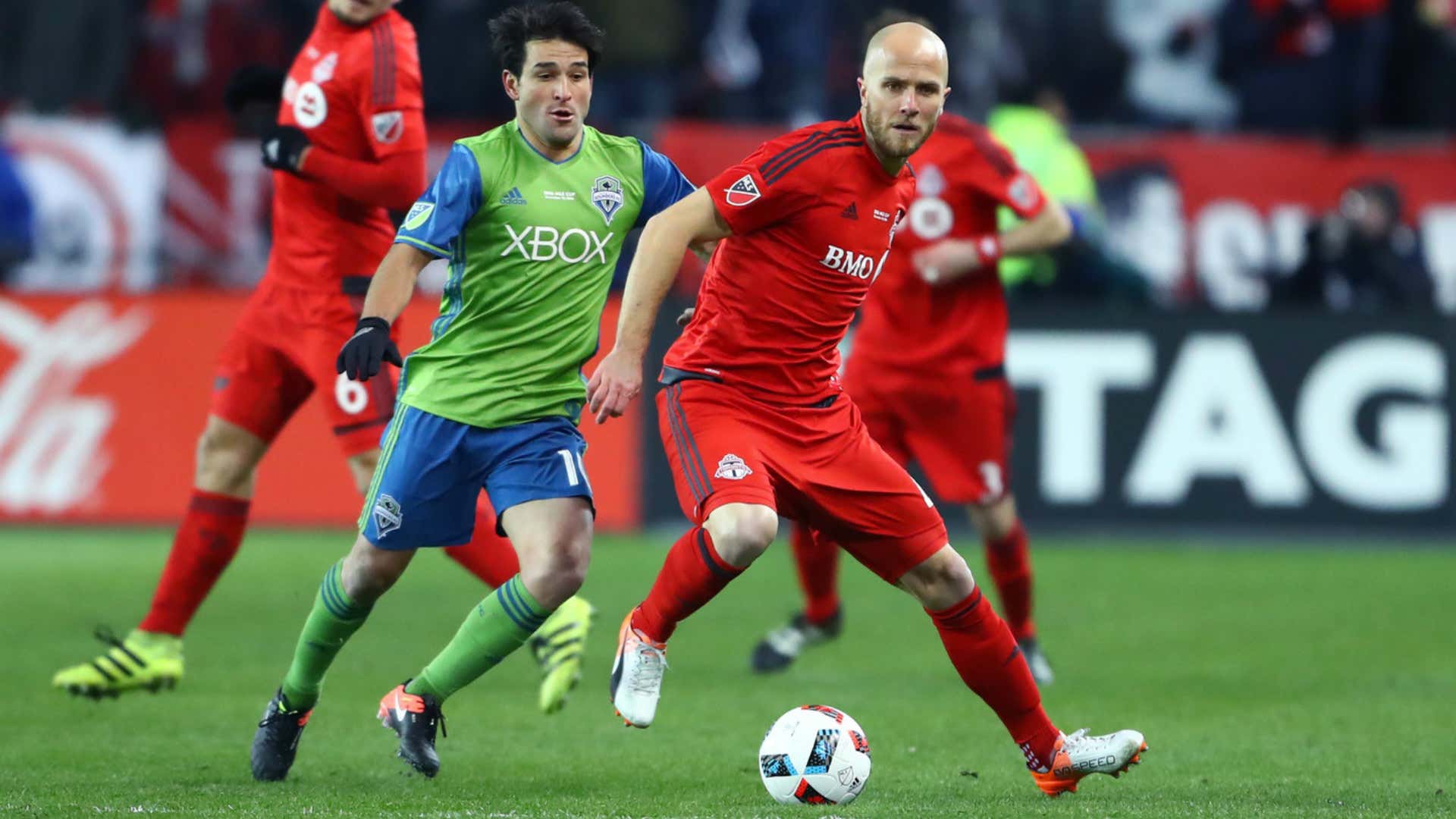 The weather will be much warmer, and (hopefully) there will be more goals, but one thing will be the same when the Sounders face Toronto FC on Saturday in a rematch of the 2016 MLS Cup final: Two of the league's most talented squads will square off hungry for a victory.
Aside from the chip TFC surely has on its shoulder after last December's penalty-kick shootout loss to the Sounders, the reality is both TFC and the Sounders are playing catchup in their races to the top of their respective standings after slow starts. TFC is on a roll, posting three straight wins to overcome a 1-1-4 start. The Sounders began in similar fashion — going 1-2-3 in their first six — but have scored three goals in each of their past two matches as they endure some major injuries to their defense.
TFC stakes claim with Orlando win
Injuries to Roman Torres and Chad Marshall could make it very difficult to stop TFC's multi-faceted attack. That center-back tandem was instrumental in shutting down Toronto last December — and fill-ins Tony Alfaro and Gustav Svensson aren't well equipped to contain the Altidore-Giovinco tandem, which has been tearing up defenses in recent weeks.
The Sounders will be banking on their own attack doing some damage. Clint Dempsey is hitting his stride, Lodeiro has begun to play like he did last season and Will Bruin is looking like a good option as Seattle's target striker.
Seattle still has Alonso though, and the Cuban midfield terror will provide help on the ever-elusive Giovinco, though TFC has another weapon to make that tougher in Victor Vasquez, who has six assists this season since arriving in the winter.
In short, TFC is an even stronger team than the one that fell short in the MLS Cup final, while the reigning champions are short-handed. That doesn't bode well for the Sounders, but being at CenturyLink Field should help offset that to some degree.
---
MATCHUPS TO WATCH
---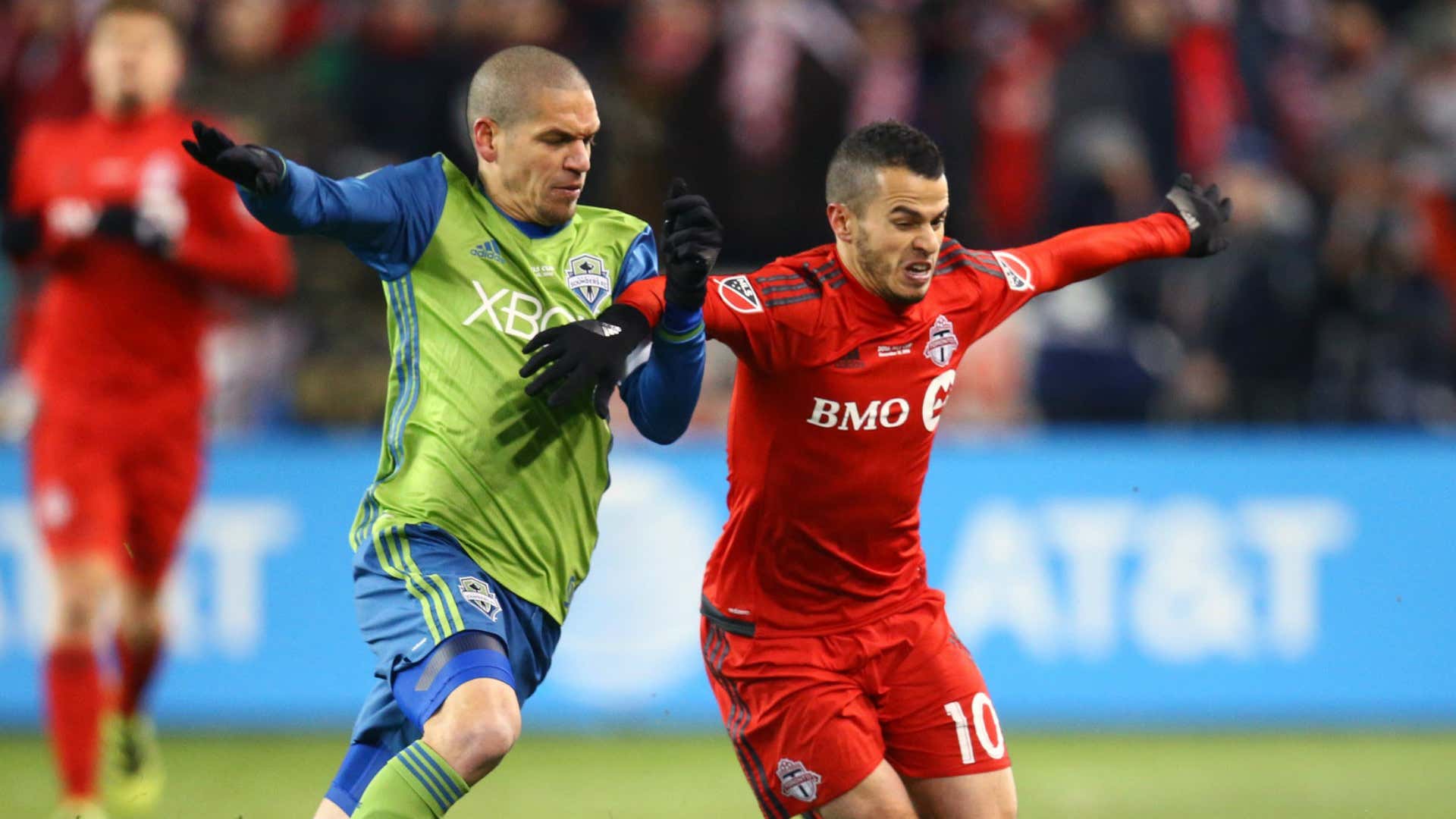 Michael Bradley vs. Clint Dempsey. The long-time U.S. teammates do battle in one of the key clashes in this MLS Cup rematch.
Jermaine Jones vs. Dax McCarty. As much as Jones might want to prove something playing against Schweinsteiger, McCarty will also be trying to contain Jones to boost his own U.S. national team stock.
Osvaldo Alonso vs. Sebastian Giovinco. Alonso was instrumental in helping neutralize Giovinco at the MLS Cup final, and did so on an injured leg, but the task will be tougher now as TFC's attack has more weapons.
Cubo Torres vs. Jonathan Spector. Two of the seasons real revelations square off as Spector looks to add Torres to the list of top forwards he has helped neutralize.
Christian Ramirez vs. Ike Opara. Ramirez has been a pleasant surprise this season, but breaking through against Sporting KC's stingy defense is another job altogether. Opara will look to shut him down.
Jack Harrison vs. Greg Garza. Harrison is fresh off his best match of the season and he'll look to force Garza to defend rather than bomb forward on the attack like he usually does.
David Villa vs. Leandro Gonzalez Pirez. Whether it's Michael Parkhurst or Gonzalez Pirez, Atlanta's defense will have its hands full trying to contain Villa at Yankee Stadium, where he thrives.
Yura Movsisyan vs. Matt Hedges. Expect a physical battle between these two as FC Dallas looks to stifle an RSL attack that has the weapons to make things interesting.
Carlos Gruezo vs. Albert Rusnak. Gruezo doesn't get the attention he deserves as one of the league's better defensive midfielders, and containing Rusnak would help boost his reputation a bit more.
Darlington Nagbe vs. Nick Lima. After sitting out last week's game, Lima should return to the lineup in time to face another tough assignment in the dynamic Nagbe.
---
WEEK 10 PREDICTIONS
---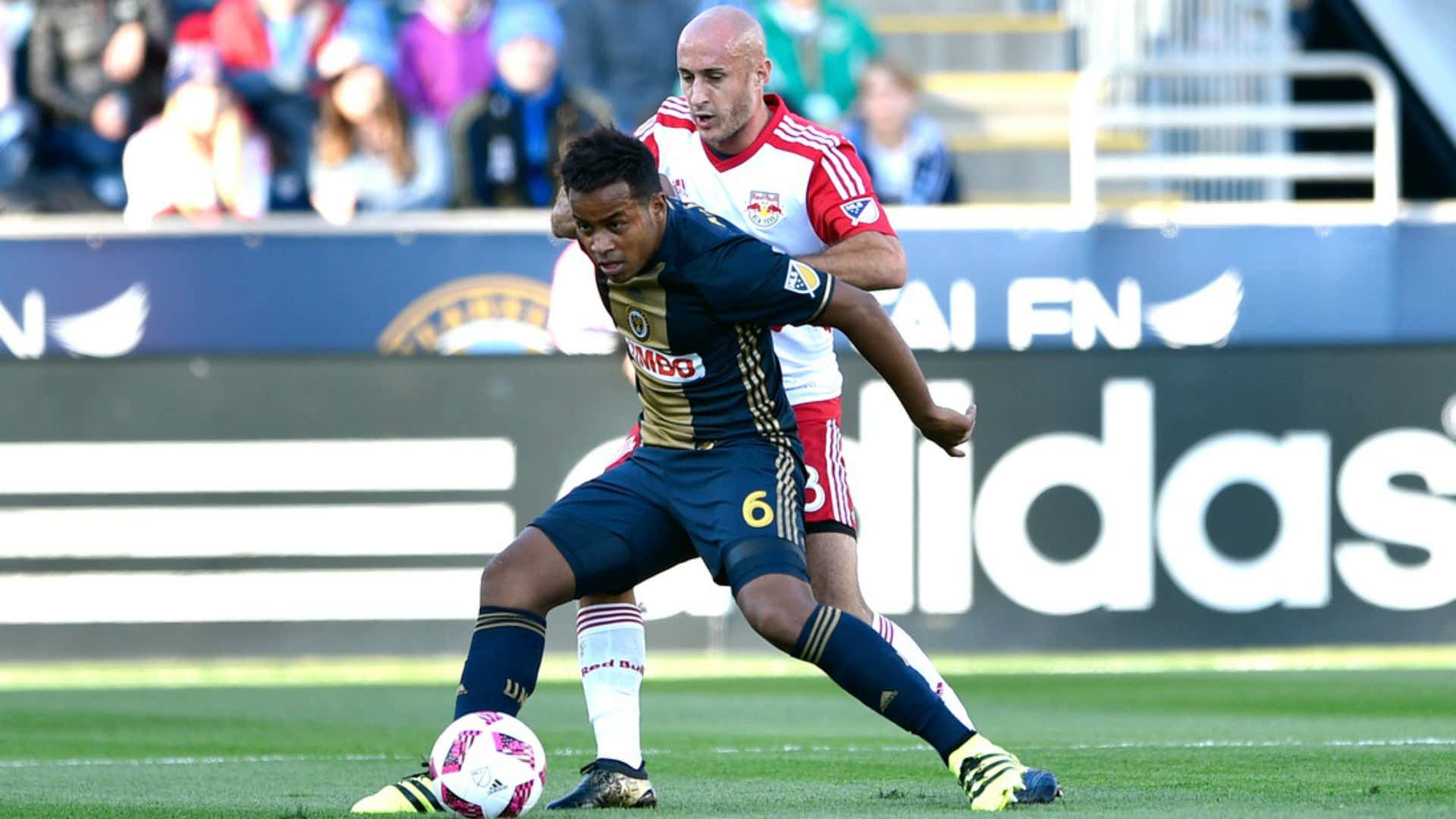 RAPIDS 1, Whitecaps 0. Tim Howard's return helps give the Rapids some confidence as Shkelzan Gashi scores a goal and Colorado's defense makes it stand up.
Sounders 1, TORONTO FC 3. The Altidore-Giovinco tandem is just too much for Seattle's shorthanded defense to stop.
D.C. UNITED 2, Impact 0. Montreal's lack of forward options will make finding a goal difficult, while Luciano Acosta continues his excellent run of form.
UNION 2, Red Bulls 1. Jim Curtin's nightmare is ended as the Union finally grab a win, with C.J. Sapong making the difference.
CREW 3, Revolution 1. Justin Meram and Federico Higuain spearhead a romp as they make the Revs defense endure a second straight shaky performance.
DYNAMO 2, Orlando City 1. The Lions have a tough defense, but the Dynamo are very tough at home and with Romell Quioto back, the attack will have enough to grab the three points.
Real Salt Lake 1, FC DALLAS 2. Morales returns to Rio Tinto Stadium and scores a goal, doesn't celebrate, and ultimately keeps FC Dallas rolling.
LA Galaxy 0, FIRE 2. Schweinsteiger finds the net, as does Nemanja Nikolic on a night when the Galaxy just can't get going, and Curt Onalfo might see his last chance wasted.
Earthquakes 0, TIMBERS 2. San Jose is tough at home, but the Timbers are just too tough to handle, with Sebastian Blanco stepping up with his best match this season.
Minnesota United 0, SPORTING KC 2. Ike Opara is due a header goal, and it comes here, while Benny Feilhaber adds to his case for a national team return.
NEW YORK CITY FC 3, Atlanta United 2. This will be the most action-packed match of the weekend, as Atlanta's high-powered offense will score, but Patrick Vieira's men ultimately have too much at home.
.