MLS
MLS Spotlight: Ultimate journeyman Melia savoring career year for Sporting KC
Tim Melia's path to MLS prominence doubles as a tour of the American soccer pyramid, dotted with ambition, persistence and no shortage of quirks.
One such oddity? His 2014 stint as an MLS pool goalkeeper — a hired gun of sorts, kept on retainer by the league in case any club needed a shot-stopper on short notice. For five months, Melia's career amounted to the antithesis of his sport. He was a loner, by definition, playing for himself in a team game.
"It knocks you down in your place real quick being a pool goalkeeper," Melia told Goal. "I think it makes you a little bit more appreciative of what we do every day. We get to play soccer for a living for as long as we can, and we really need to just appreciate that and be humble about it."
There also was the time Melia's college program at SUNY Oneonta dropped from Division I to DIII — prompting his abrupt transfer to Florida's Lynn University. As a budding professional, he sampled each of the top four tiers in American soccer. There were short-term loans to the lower levels and long-term spells as an MLS backup. Two of his former clubs don't even exist anymore.
Take any trope for the U.S. soccer journeyman and the odds are Melia has lived it.
"You just have to be prepared, work as hard as you can and wait for that opportunity to come," Melia said, "because it's going to come short and quick, and you've got to grab it with both hands or it's going to disappear."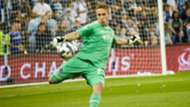 When Melia signed with Sporting Kansas City in December 2014, putting an end to his pool goalkeeper days, he was a seven-year professional with five MLS starts to his name.
Two and a half years later, Melia has taken that number to 76. Through 19 games this season, the 31-year-old leads all regular starters in MLS in goals against average (0.68), save percentage (80) and shutouts (nine). He's been particularly efficient on penalty kicks, denying three of four attempts.
"I remember him coming in as a pool goalkeeper, and you just never know what to expect from those players," Sporting KC defender Seth Sinovic said. "Everybody was pleasantly surprised at how talented he was. ... He's always had the ability and the athleticism, but I think he gets more and more comfortable with every game that he plays."
Born and raised on Long Island, New York, Melia put his MLS aspirations on hold and went upstate to start his professional career with the second-tier Rochester Rhinos in 2008. Even playing time in the USL proved difficult to come by at first, with Melia spending his rookie season on the bench before taking over as Rochester's starter a year later.
Melia made the jump to MLS in 2010, logging two seasons behind Nick Rimando at Real Salt Lake. Although he never saw the field for RSL, Melia did compile 20 appearances over loan stints with the USL's Charleston Battery and FC New York. Then came a move to Southern California with Chivas USA in 2012, and another stretch backing up an All-Star — this time, Dan Kennedy.
What Melia lacked in game time he tried to make up for in osmosis, absorbing all he could from the distinguished veterans in front of him. He grew to appreciate, and emulate, everything from Rimando's iron-man consistency to Kennedy's sharp decision-making.
"I was really raw, and I was just an athletic goalkeeper," Melia said. "If I'm sitting in the same situation [as my coaches] years ago, I'm not playing me anyway. Those guys deserved to play and got their stripes for a reason, and they should have been playing."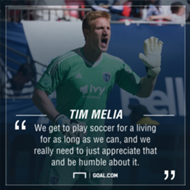 In July 2014, three months before a dysfunctional Chivas USA franchise disbanded, the club cut ties with Melia. Since he had a guaranteed contract, MLS put Melia to work as a pool goalkeeper. So he walked across the hall at StubHub Center and asked then-LA Galaxy coach Bruce Arena if he could train with the club.
For the most part, Melia found himself based in Los Angeles. He spent a week and a half with FC Dallas at one point, and dressed for four matches when Sporting KC came calling. D.C. United summoned him for a playoff game that fall, only to send him home a day later.
"That was a difficult time for sure," Melia said. "But that was the situation I was in, so I could try to make it as positive as possible and maintain a good attitude about everything or I could have been really negative. I just tried to be the best professional that I could, do whatever was asked of me and get myself out of that situation."
WATCH: Giovinco's stunning goal
Melia has been freed of such instability since winning the No. 1 job early in Sporting KC's 2015 campaign, unseating high-profile signing Luis Marin. This season, the club sits tied atop the Western Conference with an 8-4-7 record and league-best 13 goals conceded.
While Matt Besler and Ike Opara anchor a decorated back line, Sporting KC's high defensive pressure and aggressive decisions on the ball can leave the goalkeeper to deal with his fair share of traffic. Game after game, Melia has been equal to the task.
Three years ago, Melia was an MLS albatross shuttling between teams so the league could get some return on a $75,000-a-year investment. Nowadays, he looks like the Goalkeeper of the Year front-runner.
"For anybody that's taken the path that he's taken and still be as positive and working as hard as he is, it's pretty impressive," Sinovic said. "I think he understands how unique and special it is to be able to play at this level, and he definitely doesn't take that for granted. He deserves the success he's been having, and hopefully he gets a little more recognition.
"He's one of the best goalkeepers in the league — and he's definitely playing like the best goalkeeper in the league."