Michy Batshuayi
Michy Batshuayi should get his chance if Diego Costa leaves Chelsea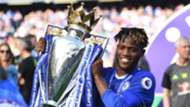 ---
COMMENT
---
Michy Batshuayi has salvaged what could have been a disastrous year and turned it into a somewhat positive one in recent weeks - just in time as Diego Costa looks increasingly close to the exit door. 
Costa has been Chelsea's talisman for years, their new Didier Drogba, but there are still doubts over his future as Atletico Madrid and clubs in China target his signature. 
Chelsea 'permanent revolution' better than Arsenal stagnation
Meanwhile, Batshuayi emerged from the shadows with a title-winning goal away at the Hawthorns in a 1-0 win over West Brom. It felt like Batman to the rescue, with Antonio Conte having demanded his players secure the title as early as possible so they could focus on an FA Cup final against Arsenal. 
Costa locked Batshuayi firmly out of the first team picture due to his early season form. Meanwhile, the Spain international looked nailed on to sweep up English football's various player of the year awards. 
The 28-year-old scored 14 goals by the end of December - his strikes contributing to more points than any other player in the league, despite tallying fewer goals than Harry Kane and Romelu Lukaku. He looked like a calmer beast, with his disciplinary record improving - but that soon changed.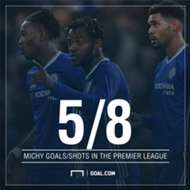 His form dipped towards the end of the season, with his scoring rate dropping as he suffered the longest goal drought of his Chelsea career. He failed to score in seven consecutive games, with his petulance and aggression soon returning. 
Batshuayi has taken time to adapt to life in England, he still struggles to speak the language. On the pitch, he had to step up to a higher pressure environment and a more unforgiving league. 
John Terry helped me while I was on loan, says Michael Hector
Costa is a phenomenal focal point for Chelsea even when he doesn't score and Batshuayi is a different kind of striker, one who lives for goals. Marseille's players all focused on getting the best out of Batshuayi but, at Chelsea, he won't get that luxury with so much talent around him.
Batshuayi is an ice-cold poacher but he must learn to perfect his movement off the ball and to be available for Eden Hazard and Pedro to play off. 
In recent weeks, Batshuayi has not only shown ruthless efficiency in front of goal, with five of his eight shots in the Premier League resulting in goals, but he has improved his hold up play.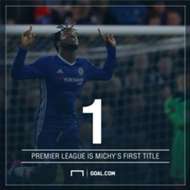 His composure in front of goal can never be doubted and he has a goal every 105 minutes in all competitions, which is very good for a man adapting to so many new things. 
Hazard jokes about Lukaku to Chelsea
Conte will be most pleased with how his striker has got his head down and refined his weaknesses but his goals also serve as an advert for his services ahead of the summer transfer window. 
Chelsea should keep him and use him, despite their intent to sign another striker over the summer. If they chose not to, there is a queue of clubs from France, England and Italy lining up - as the Belgian's talents are known by many.