Gold Cup
Michael Bradley and Jozy Altidore to be added to U.S. Gold Cup squad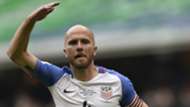 Michael Bradley and Jozy Altidore will join the United States national team for the knockout stages of the Gold Cup, sources confirmed to Goal. 
The Toronto FC stars were on Bruce Arena's 40-man preliminary roster for the tournament and were widely believed to be among the changes the U.S. would make to the playing squad after the group stage. 
Five thoughts from Mexico's draw
Each side in the Gold Cup is allowed to make six changes heading into the knockout rounds.
The 29-year-old Bradley is the captain for both the U.S. national team and TFC, while Altidore has wracked up eight goals from 17 appearances for the MLS side this season. 
The USA opened the Gold Cup with a 1-1 draw against Panama before squeaking out a 3-2 win over Martinique in game two. 
The side will round out group play with against Nicaragua, currently bottom of the group with no points from two matches, Saturday night in Cleveland, Ohio.