Kagera Sugar
Mexime: Lack of goals cost us this season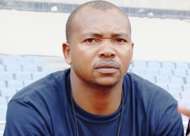 Kagera Sugar head coach, Meck Mexime has revealed that the lack of goals his costed his team match after match. 
Speaking after receiving a 3-0 defeat by Yanga in Dar es Salaam, Mexime said that, they created a lot of chances but their finishing was not convincing. 
"We are playing well from the back up to the middle but clearly we are not good in front of goal, we don't use our chances and that is why we get punished" said Mexime. 
Asked about Yanga, Mexime replied that they played well against one among the strongest team in Ligi Kuu and the Jangwani Boys were clinical when they entered in the final third. 
Kagera Sugar who finished in the third position last season has won just once in their last five matches and remain in the relegation zone together with Njombe Mji and Maji Maji.