Mexico
Mexico to play March friendlies in California, Texas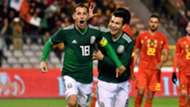 Mexico's preparations for the World Cup continue to take shape with the locations of March's friendly matches announced Wednesday.
El Tri will play in Santa Clara, California's Levi's Stadium on March 23, then travel to Texas to play in Arlington's AT&T Stadium on March 27, Soccer United Marketing announced. The opponents are yet to be announced.
It is the third time they'll be at Levi's Stadium and their first visit since a disastrous quarterfinal against Chile in the 2016 Copa America Centenario, which Mexico lost, 7-0. Things have been better at the home of the Dallas Cowboys, where Mexico is 5-0-1 in their seven previous visits.
Watch MLS live and On-Demand with fuboTV (7-day free trial)
Mexico was drawn into World Cup Group F earlier this month alongside Germany, South Korea and Sweden. While manager Juan Carlos Osorio and his staff have six months before kicking off June 17 in Moscow, the opportunities to get the full team together are few and far between. In fact, the March dates are the only FIFA window prior to the end of the European season.
That means the games will take on an outsized importance with Osorio likely to call in a squad very similar to the one he will use at the World Cup this summer. After drawing with Belgium and beating Poland in a pair of November friendly games, the manager noted that he wanted his teams to face top-quality opposition whenever possible. The rumors surrounding the opponents — which have centered on Egypt and Argentina but are not confirmed — lend credence to that idea as both nations are qualified for the World Cup.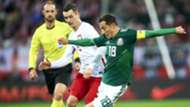 "From here, we're starting to imagine and think about how we're going to prepare ourselves, what is the best way to do that and carry out our preparation plan ahead of the World Cup," Osorio said after the draw. "We're going to have every chance to prepare ourselves very well. There are still the preparation matches before the tournament and the Federation, with (director of national teams) Dennis (te Kloese), has had it established that we're looking for elite opponents. Hopefully we're able to finish out with really good preparation matches."
Mexico will play a Jan. 31 friendly in San Antonio against Bosnia and Herzegovina with a team composed of domestic-based players and then will have several friendly matches leading up to the tournament in the summer. Federation president Decio De Maria said in the fall that there will be a send-off game at the Estadio Azteca and likely preparation games in the United States and Europe before the squad arrives in Russia.