World Cup
Mexico returns to familiar 'Us vs. Them' mentality after World Cup defeat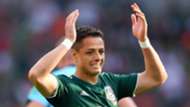 It's not exactly a secret that Mexico's national team and the press have had a pretty fraught relationship.
The team's last manager, Miguel Herrera, was removed from his post after getting into a physical altercation with a commentator - and that was after a tournament that Mexico won.
Things looked to be turning a corner earlier in the World Cup. Mexico's 1-0 win over Germany to start the tournament and a 2-1 victory over Korea resulted in elegies for everyone involved, from winger Hirving Lozano to forward Javier "Chicharito" Hernandez to much-derided manager Juan Carlos Osorio.
The press often serves as the mouthpiece for Mexican fans, and those fans were singing "El Profe Osorio!" after both victories. After a 3-0 defeat to Sweden in the final group match, though, they changed their tune to "Corea, hermano, ya eres mexicano!" ("Korea, brother, you're now Mexican") after the Asian nation topped Germany 2-0 and helped make sure El Tri would go through in second place in the group.
That, and the press' subsequent praise for Korea's assist for El Tri, doesn't seem to have sat well with many of the Mexico players who felt their two victories to open the tournament were being overlooked.
"We didn't go through thanks to Korea, we qualified thanks to our work," Chicharito wrote on Instagram. "We didn't lose because of foolishness, in fact we qualified and we gained awareness because we had a great opponent and we saw mentally where to improve.
"It's clear that we have everything to win, and we're continuing to work above all in the mental and emotional [aspects]. We're enjoying the qualification and learning from the errors. Support us even if it's not going as you'd have liked."
Rafa Marquez, the 39-year-old spiritual leader of the team, had an even stranger post. "The mediocre people who never have achieved anything in life will say we passed because of a miracle," he wrote. "Those who have gotten something important in life, we say first goal completed and now it's time to work and continue getting better to reach our next goal and objective,"
Often the Mexican press is harsh and unreasonable. This time, it seems to have a bit of a point. "Of course Mexico advanced because of two really good victories," MedioTiempo editor JuanMartin Montes tweeted. "But is it so hard to also say it was lucky because the least expected result happened in the other match?"
Not for some Mexico players. Marco Fabian said after the contest that El Tri had benefited from "the the work of destiny, luck or whatever it was," while Andres Guardado said Friday that the team "isn't happy for the defeat and we would've liked to be leaders of the group since we had it in our hands."
Even with some more measured comments, the prevailing attitude seems to be one of "Us vs. Them" yet again. Strangely, that may be the best place for the Mexico national team to be.
It certainly is the place they've grown most accustomed to occupying. Yet, the boos raining down on them after a 1-0 send-off victory over Scotland and the controversy that resulted after players went to a party that night served to unite the team. While outsiders may not believe in Osorio's project or Mexico's players, internally everyone has bought in. After a frustrating loss, Mexico's players look to be retreating into the posture where they're most comfortable.
Mental coach Imanol Ibarrondo will be eager to work with the team and make sure everyone leaves the group stage in the past and begins to visualize success against Brazil. If El Tri can't get into the right mindset ahead of that game and is still worried about what Mexican fans and the press are thinking, the vision of defeating Brazil will remain just that. If they can find the same verve they showed earlier in the tournament, the vision could become a reality.