Mexico
Mexico national team to begin 2018 with friendly in San Antonio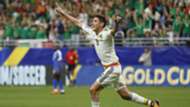 Mexico will begin its 2018 with a friendly in San Antonio, the Mexican federation, SUM and officials in the South Texas city announced Tuesday.
The game will take place outside of a FIFA international window, meaning the squad likely will be made up entirely of players based in the CONCACAF region. The opponent will be announced at a later date but also will likely be a CONCACAF team or another country where the domestic league calendar permits players be avaialble for the Jan. 31 friendly match.
"We're excited to continue to grow San Antonio's soccer resume, and welcome the wildly popular Mexican men's team and their enthusiastic fans to our beautiful city," San Antonio mayor Ron Nirenberg said in a news release. 
El Tri played in the Alamodome recently, topping Curacao 2-0 in a Gold Cup group-stage match with an announced attendance of 44,232. With the World Cup coming in the summer of 2018, Mexico may play fewer matches than usual in the U.S. in the first half of the year. They're set for November friendly games in Belgium and Poland before December's World Cup draw. January will bring the friendly in San Antonio, but the March FIFA date could see El Tri play one contest in Europe before perhaps returning to North America.
The team then will look to play a send-off game at the Estadio Azteca, a preparation match in the U.S. and one or two more games in Europe before arriving in Russia for the summer showcase, according to comments made by FMF President Decio de Maria after Mexico clinched World Cup qualification.