Mexico
Mexico announces roster changes ahead of March friendly matches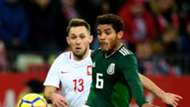 Mexico has been dealt a trio of injury blows ahead of March's friendly matches against Iceland and Croatia, the Mexican federation announced Sunday night.
LA Galaxy midfielder Jonathan dos Santos will not be part of the games and Tigres wingers Javier Aquino and Jurgen Damm will miss the Iceland contest and are in doubt to face Croatia. Chivas center back Oswaldo Alanis has been added to the team after not being included in the initial call.
Dos Santos' brother Giovani already had been excluded from the Mexico side because of an injury suffered in the Galaxy's 2-1 loss to New York City FC on March 11. While the Galaxy were off this weekend, Jona suffered a hamstring injury in a Friday friendly with his club, according to a news release. 
"The treatment to follow indicates that he will not be able to do physical activity in the first week, so it was determined that he will begin his recovery process as quickly as possible with his club," the release read.
The Tigres pair both started but were substituted from Saturday's scoreless draw against Chivas, Aquino in the 57th minute and Damm in the 78th. Both players have adductor complaints, according to the news release, but may be able to recover in time for the contest against Croatia.
"After undergoing tests, by common agreement between the directors of the national team and Club Tigres, Aquino and Damm will undergo recovery with their team and, depending on [the club] will be analyzed to see if they're able to join the Mexican national team for the match on Tuesday the 27th in (Arlington), Texas," the release says.
Alanis is one of the few left-footed defenders in the Mexico player pool after likely World Cup starter Hector Moreno and played in the Confederations Cup last summer. 
El Tri face Iceland on Friday in the Bay Area's Levi's Stadium before the March 27 game against Croatia at AT&T Stadium.