Liverpool
Meet the Liverpool fan who's been to every one of the club's European Cup finals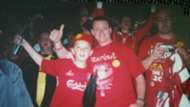 If a Liverpool fan ever tells you he or she "goes everywhere" to watch the Reds, there's an easy way to check if they're telling the truth.
Ask them if they know 'Mono'. Or better still, ask 'Mono' if he knows them. If he does, you've found yourself a genuine travelling Kopite.
'Mono' is Stephen Monaghan, a 59-year-old Liverpudlian from Halewood. Known affectionately as 'The King of the Kop' he's been following the Reds since the late 60s.
And, boy, does he have some stories to tell.
On Saturday, he will attend his eighth European Cup final with Liverpool. And he's as excited about this one as he was his first, back in 1977.
"I'm 59, but it's as if I'm still 16," he tells Goal. "I haven't slept properly in days, I'm so worked up! It's just been 'Kiev, Kiev, Kiev!'"
When we meet, he's spent the day finalising flight and accommodation details for his travelling party – "a nightmare!" he grins – and is about to record a podcast with three fellow lifelong Reds. Brazilian TV have been asking to speak to him this week. The price of fame? "I'm not famous, mate," he laughs. "I'm just a Kopite!"
Well, not quite. He's the King of the Kop, a prominent member of the Spirit of Shankly supporters' union, the man whose 'Leather Bottle' banner can be seen everywhere the Reds go. He's the kind of fan every club needs.
Here, he talks us through his memories, from Paris down to Turkey, and everything in between…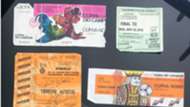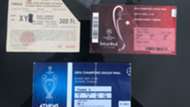 Rome 1977
"They say your first love is always the best," Mono says, smiling at the thought. "For me, that's spot on. Rome will always be special to me. I love the place."
Mono had started going to Liverpool through his dad, John, in the late 1960s. John was a football man, the co-founder of Halewood Junior Football Club (which still runs to this day) and a friend and father figure to all. His nickname locally, Mono tells us, was "Shankly".  
By the time 1977 came, young Stephen was well on his way to becoming a veteran. He'd progressed from the Boys' Pen to The Kop, obtaining his first season ticket for the 1973-74 season. He had a taste for it; there was no turning back.
"It just became my life," he says. "It sounds strange, but it's all I've ever wanted to do. Football always came first. Other people would save money for nights out or for the pictures, whatever. I'd be saying: 'I can't come out tonight mate, I'm going to Ipswich on Saturday!'"
For Mono, like many Liverpool fans, Rome was where it all began in terms of European trips. "We took 30,000 over there," he laughs. "Nobody expected that. People were selling cars, selling washing machines, selling tellies, just so they could go.
"Our trip started the previous Friday, getting the coach from Halewood to London for the FA Cup final. Manchester United beat us, and we were devastated. But we were at Victoria station the following morning and we were off to Rome on the Transalpino, £52 return!"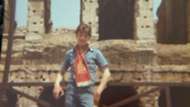 Some Liverpool fans made that trip on the old 'Football Special' train from Lime Street, spending the best part of two days in squalid conditions. "Ours was luxury travel by comparison," Mono laughs, though he remembers arriving in Rome and being confronted with a fountain outside the station. "We were straight in. Those fountains were full of Scousers that week!"
The game itself went to plan, a 3-1 win over a fabulous Borussia Monchengladbach side sealing a first European Cup for Bob Paisley's side.
"The best," Mono says. "I love Rome and I always will, because of that night."
Wembley 1978
A year later, Liverpool were back in the final, facing Bruges at Wembley.
"It meant the world to us," Mono says. "To be the best team in Europe, it was everything. We were a great team, and we wanted to prove it.
"I hitch-hiked to that final with a mate of mine, Terry. One of our other pals emigrated to Canada two weeks before it, what a bad decision that was!"
Kenny Dalglish's iconic goal settled the game. "He was my hero," Mono admits. "When I was 50 a few years ago, one of my friends got me a signed picture and message from Kenny as a gift.
"He wrote on it 'To Mono, King of the Kop? There's only one King!' But I like to think I got there first!
"He nearly got me killed on his debut for Liverpool, Kenny. It was at Middlesbrough, Ayresome Park, he scored after about seven minutes. We were in with the home fans because the Liverpool end was pretty crowded. We jumped up and I just remember getting booted! They chased us all over the place after that.
"Kenny, to me, is the greatest player ever to pull on the red shirt. My dad's hero was Billy Liddell, and Steven Gerrard in the modern generation came close, but Kenny was the one for me. He's the real King."
Paris 1981
After seeing their European supremacy briefly threatened by Brian Clough's emerging Nottingham Forest, it was back to business for Liverpool in 1981, with Real Madrid beaten at the Parc des Princes in Paris.
"That was the only final I never took a camera to!" Mono remembers. "I used to take pictures everywhere I went but, for whatever reason, I didn't that time.
"I just remember the song everyone was singing: 'On the dole, in Paree, drinking wine!' That was how it was in Liverpool at the time; the place was suffering, the Thatcher government was doing what it did and money was tight in the city.
"The Toxteth riots came a few weeks after that final, and loads of people I knew were leaving Liverpool to go looking for work. I remember you'd go down to London for a game, and on the train back it'd be full of Scousers returning home with all their work gear, they'd be going back down there on the Monday morning.
"That final, though, was great. Real Madrid were THE European team, as far as we were concerned. Whenever we were in Europe, we wanted to get drawn against them. It was exciting, something new, the biggest challenge. They were a great side, and we beat them. It wasn't a great game, but it was a great night!"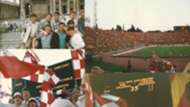 Rome 1984
Three years later, Liverpool – players and fans – walked into the lion's den.
Rome '84 is notorious among Kopites for what happened after the game, with travelling Reds subjected to brutal, indiscriminate attacks from home supporters.
Mono, though, has rather fonder memories of the trip.
"It was one of the best I ever had!" he says. "We were meant to stay in a place called Ostia, which was where the rich and famous went. We ended up in a place called Ladispoli, which was a one-horse town, a hotel out of an Alfred Hitchcock film and one bar called 'The International'!
"Anyway, on the first night some of the lads went for a wander and ended up being chased by Italians on scooters with chains and all kinds. This was five days before the final!
"Later that day, hundreds turned up ready to fight. It was scary. But I'll never forget it, we were inside the one bar, 'The International', and this fella appears from nowhere, a police officer with a gun. He asked to speak to us, asked us if we wanted any trouble, we said no and he said: 'You will get no more trouble now, I promise!'
"Angelo, his name was. And after that, the hooligans were as nice as pie. They drank with us, they sang with us. Me and my mate Philly ended up speaking to their leader, and being invited to his house for a meal. We took flowers for his mum, she cooked us steak, spaghetti Bolognese, the works. It was mad, mate!"
So was the football, in fairness. Graeme Souness delivered a masterclass, Bruce Grobbelaar's spaghetti legs bamboozled Roma's penalty takers and Alan Kennedy delivered the killer blow, just as he had in Paris. Liverpool were four-time European Champions.
"The atmosphere for that game was something else," Mono says. "We were in awe of it, to be honest. But what happened afterwards was chaos, it was frightening.
"Everyone was getting attacked, women, children, the elderly. I remember seeing a mate of ours from Halewood, the day after the game. He was walking round with a ripped t-shirt and he didn't know what day it was. He'd been attacked the night before, taken to hospital and checked himself out. He had no passport, no money, no plane ticket. We had to bunk him onto a flight back to England, honestly!
"Me being the smallest, I had to hide under the seat so we could get him on. We all took it in turns to go to the toilet so there would be a seat. You'd get 10 years for that now, probably!"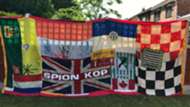 Istanbul 2005
The events of Heysel, of course, would cast a shadow over Liverpool, club and city, and bring an end to their era of European dominance. They would be banned from continental competition for six years, and it would be 20 before they were back in a European Cup final.
"Sad, incomprehensible," says Mono, understandably keen not to dwell on that fateful, tragic night in Brussels.
By the time Liverpool got the chance to lift the trophy for a fifth time, the competition had been rebranded as the Champions League, Mono had a son, Joe, who was raised in the way of the family; he was a Red, and a passionate one.
The 2004-05 season was a poignant one. John, Mono's father, passed away the day before Liverpool played Olympiakos in the December. "When Steven Gerrard scored, I burst out crying," he remembers. "And Joe did too. I remember someone near us saying: 'Look at that, that's passion!' but it wasn't, it was for my dad."
Liverpool, under Rafa Benitez, continued to defy the odds. Leverkusen fell, then Juventus, then Chelsea. AC Milan, Europe's best, were next.
"I still get emotional, even now," Mono says. "I cried again in Istanbul when we did it. I remembered all those games, all those memories. He'd have loved it, but he'd have loved the thought of me and Joe being there together, witnessing that.
"My next door neighbour left at half-time, I still give him stick about it now! It's a life lesson as far as I'm concerned. Believe and support. I sang 'You'll Never Walk Alone' at half-time out of defiance; it's down in folklore now that it made a difference. I'd love to think it did."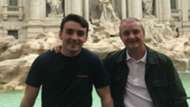 Kiev 2018?
And what of this weekend, then?
Liverpool's last Champions League final ended in defeat, in Athens in 2007, but now, 11 years on, they're ready to go for number six.
It's already been some journey. They've been to Hoffenheim, to Seville and to Porto. Moscow brought a memorable run-in with Jose Mourinho, in which the unsuspecting Manchester United boss posed for a photograph wearing a Spirit of Shankly sticker. Grinning next to him, of course, was Mono.
"We'd been out on a cruise round Moscow, so we'd had a few bevies!" he laughs.
"We were staying at the Radisson, and the Manchester United team was there too. Mourinho was in the lobby so we just went for it. It was done and dusted in two seconds, I stuck the sticker on him, we took the picture and we were away.
"I saw him again the next morning when I was having breakfast. I just winked at him 'Alright, Jose, mate?' He didn't say a word!"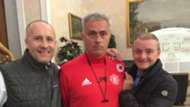 The knockout stages brought more incredible moments; Porto saw the birth of the 'Allez, Allez, Allez!' chant which will soundtrack Liverpool's weekend in Kiev, while trips to Manchester City and Roma will live long in the memory.
And now, finally, to Ukraine. Mono will be there, so will his son. The man he bought his first season ticket with, John Nicolson, will be sat next to him as he always is. They're ready.
"I've already got my clothes ironed and ready, I can't wait," smiles the King of the Kop.
"It gives me a shiver down the spine, just thinking about the flags and the noise and the songs. I've been going for years, but I still get that feeling. I always will."