Hope Solo
Media Microscope: Hope Solo ready to cash in on controversy in TV career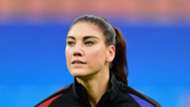 Hope Solo always presented something of a dilemma for the U.S. national team.
As the world's top goalkeeper, Solo knew her spot on the field was a near guarantee. But her presence came with the added baggage of whatever controversy she happened to be embroiled in at the time — and there were more than a few.
With her national team career seemingly over now, Solo appears to be transitioning to a role that couldn't be more perfect for her: television, where controversy is an asset, not a detraction.
Solo inked a deal with INvelop Entertainment last week to develop unscripted TV content. Her first show will be a new season of the sports medicine series "The Cutting Edge," which Solo will produce and star in.
Hope Solo signs TV production deal
The news came as Solo's playing career has hit a crossroads. The 35-year-old is suspended from the U.S. national team for her now-infamous "cowards" comments following her team's Olympic elimination at the hands of Sweden. The suspension will expire soon, but U.S. Soccer appears ready to wash its hands of Solo for good.
On the club level, Solo took a hiatus from the Seattle Reign last season and then underwent shoulder replacement surgery in September.  
Though Solo has insisted she is planning to return to the field, she is keeping one eye on her post-playing career. After dabbling in TV with appearances on "Dancing With the Stars" and the first season of "The Cutting Edge," Solo is embarking on a first big venture into television that could portend bigger and better things for her in the future.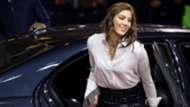 Solo's entrance into the sports media landscape appears to be well timed. Oversized personalities like Stephen A. Smith, Jason Whitlock, Colin Cowherd and Skip Bayless, among others, have become staples in the "Embrace Debate" culture that's proven to be so lucrative for networks.
All four of those personalities made waves at ESPN under the guidance of Jamie Horowitz, who brought the latter three along with him when he was hired as Fox Sports national networks president in 2015.
Might there be a spot for another flame-thrower at Fox? After all, Fox Sports 1 did air the first season of "The Cutting Edge" back in 2014.
If Solo has been willing to openly criticize coaches, teammates, former players and U.S. Soccer while still an active member of the national team, having the shackles removed should produce an even higher volume of debate-worthy material.
D.C. United lays groundwork for new era
If there's one possible incongruence to Solo's TV deal it's that her first show, at least ostensibly, doesn't appear to be an ideal vehicle for the controversial style she is best known for.
Following athletes on the road to recovery from injury isn't something that normally lends itself to hot takes, but Solo can benefit from this by showcasing a different side of herself that could lead to more opportunities in the future.
Or, perhaps more likely, she can just find a way to incorporate her inimitable style into the show anyway.
Either way, we may need to get used to seeing a lot more Hope Solo in the future — even if it's not on a soccer field.