KPL
Maurice Osundwa named chairman as AFC Leopards Sacco now takes shape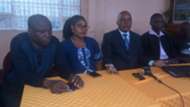 Maurice Osundwa is now the chairman of the newly formed AFC Leopards Savings and Credit Co-operative (Sacco).
Osundwa was confirmed on Thursday after a meeting held in Nairobi and attended by former club legends.
Other officials include vice-chairman; Dr. JJ Masiga, Secretary; Enos Mutoka; treasurer; Peter Ouma Okutoyi; Credit Committee; Josphat Murila, Jane Malika; Member; Aggrey Openje, Education Committee: 1. Chair. Dr. J J Masiga, 2. Secretary Nicholas Muyoti. 3. Member; Evelyn Shivachi; Supervisory committee; 1. Abel Wafula, 2 Secretary Peter Lichungu and 3. Patrick Shilasi.
Speaking after the meeting, Osundwa said members will have a number of advantages like access to loans for business, emergency, school fees and personal expenses.
According to Osundwa, the Sacco will work closely with the club leadership, fans and other stakeholders to initiate several investment projects.
Osundwa said one of the Social Responsibility policy of the Sacco is to support the club financially on a need to basis and nature talent through technical skills from the former stars - who have been ignored despite playing a pivotal role for the club in the past.
According to Osundwa, they will secure medical covers for legends so that supporter does not keep fund raising. In case of death, the insurance will take care of transport, the coffin and Sh20,000 facilitations for the family.
Every member will be covered together with five family members. According to former Ingwe player Peter Lichungu, the minimum monthly contribution is Sh500; while the fee and minimum share is Sh2,200 which can be paid through Safaricom pay bill number 206777, while the account number is one's national ID number.
Some of the legends, who have registered with the Sacco include Josephat Murila, JJ Masiga, Aggrey Lukoye, Patrick Shilasi, Peter Lichungu, Peter Ouma, Mike Amwayi, Justus Muhati, Joe Kadenge, Tonny Lidonde and Reginald Asibwa.