KPL
Mathews Ottamax accuses AFC Leopards players of belittling the club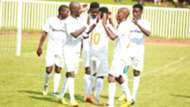 Mathews Ottamax, the outspoken AFC Leopards goalkeeper trainer, has accused a section of players for lack of respect to the team.
Ottamax, who is known for speaking his mind, alleged that a certain player made disparaging remarks during Ingwe's final game of the season, after he was summoned from the bench as they trailed Nzoia Sugar in a 2-0 defeat.
"I was taken aback in our last league match of the season when a player whom I took for warm up when we the team desperately needed to conjure something, only for him to say "Hapa hakuna kitu hii team ilibakia tu jina na basi kubwa".
"You know yourself! Just know there's very little damage you can do to the club, it will always be there!"
Ottamax also claimed that a section of Ingwe players are 'cartels' out to extort money from the club but gives very little in return. "I fear for the growth of Kenyan football. We are breeding cartels in the name of players! These are not footballers but Kamjesh or plainly call them extortionist.
"The ones, who will decide when a coach should go; always coaching their coaches, coming for training when they want. Wants to run the office."
Ottamax also distanced himself from the poor display that denied the team a trophy this season. "For once my name has been repeatedly mentioned linking it with failure. I want you to know that I was born a winner, winning in every aspect of life and with the right sportsmanship attitude."
AFC Leopards lost all their last six games of the season, including a semi-final clash in the FKF Shield.