Zlatan Ibrahimović
Mata: Ibrahimovic left Man Utd staff 'shaking' with 'God has arrived' comment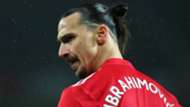 Zlatan Ibrahimovic announcing that "God has arrived" left Manchester United's kit men quaking in their boots, Juan Mata has revealed.
The enigmatic Swedish striker made a typically brash arrival at Old Trafford back in the summer of 2016.
Having agreed to a reunion with former Inter boss Jose Mourinho, Ibrahimovic was quick to point out that a remarkable talent had arrived in English football.
Any concerns as to his personality were quickly eased, though, with United's staff learning that the 36-year-old is a likeable character and true professional behind the bravado and showmanship.
"The day he arrived, we were away on pre-season, so he was on his own with the kit men at the training ground," Mata told FourFourTwo.
"They had never met him before and he's the sort of guy that garners instant respect because of the way he carries himself.
"Zlatan apparently looked the kit men up and down and said: 'I hope you know God has arrived'.
"The kit men were shaking and didn't know what to think, then he fell about laughing with them. He always does that."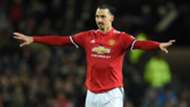 Ibrahimovic was able to back up his bold comments off the field with eye-catching performances on it in 2016-17.
He helped United to get back on the trophy trail with winning goals in the Community Shield and EFL Cup final, while also putting them on the path to Europa League glory.
His debut campaign at Old Trafford had delivered 28 goals by the time he picked up an untimely knee injury in April which forced him under the knife.
Having worked his way back from that ailment, Ibrahimovic has been handed another short-term deal by Mourinho.
He is yet to add to his United goal tally, having made four appearances off the bench so far, but may get the opportunity to break his duck for 2017-18 when United take in a derby clash with Manchester City on Sunday.
Mourinho has said of his possible involvement in that game after missing two fixtures with a slight knock: "Truth is that [Eric] Bailly is out for the weekend, [Phil] Jones a chance, [Marouane] Fellaini a chance, Zlatan a big chance and [Nemanja] Matic is injured, but will play for sure. [Michael] Carrick no chance."