Euro 2016
Mario Gotze isn't Germany's mini-Messi – but he's still super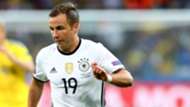 ---

COMMENT
---
The subject of 'Super Mario' Gotze provokes a whole range of opinions in German football circles.
Among the current squad in France, there's not another player who commands the same media attention as Gotze. Whether it's his club future, changing his long-term representatives, or his partner, the 24-year-old makes for gossipy, snackable content in the German media. He divides opinions and conjures intense generalizations of his character and professionalism. Gotze - with his Twitter marketing and collaborations with the likes of Beats - is a brand for the modern age.
But in the wake of Germany's Euro 2016 opener - a 2-0 win over Ukraine - Gotze's performance in the 'false 9' position has been debated ad nauseum.
There are plenty of critics; those who think Germany need a focal point, a penalty box striker like Mario Gomez to do the damage. Others debate his focus, his attitude and application. One German newspaper questioned his inclusion in Joachim Low's team after going 18 minutes without touching the ball on Sunday.
Former Germany World Cup winner Lothar Matthaus wants Low to drop Gotze for the matchday two game against Poland. Franz Beckenbauer leapt surprisingly to his defence – the former Bayern legend once publicly told Gotze to grow up. "You have to recognize his thankless task: When playing as a striker, he should have shaken up the dominant Ukrainians, but he was left alone up there after the break," he wrote in his SportBild column.
As Jogi Low prepares to face Poland - his nemesis in qualification - in Paris on Thursday, the coach's choices in attack are a hot topic.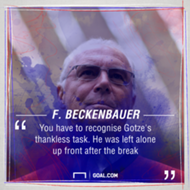 In September last year, Gotze produced his best all-round contribution to the national team in a 3-1 win over Poland. The attacking midfielder was in excellent form despite sitting on the periphery at Bayern Munich and scored two decisive goals.
What counts against Gotze is his lack of appearances in big matches. Aside from scoring the goal to win the World Cup in 2014, he has starred in very few high-pressure games. However, it's simply a question of trust – Guardiola had little; Low has plenty. The Germany coach sees the value of Gotze - not just in his camaraderie with his team-mates, but in his role on the pitch.
Gotze's professionalism is second-to-none, according to his contemporaries. The perception outside of Bayern and the German FA is that he is perhaps disruptive, egotistic and spoiled. But such is his dedication to fitness that he employs his own personal trainer and advisor. "His professionalism is exemplary," said Löw recently, when asked about where the attacker fits in this summer.
Pressed further about his role in the side, and Low was more delicate. Perhaps this is one of Gotze's problems – he hasn't held down a position at club level since breaking through at Borussia Dortmund as a transitional counter-attacking No.10. Guardiola's habit was to play him on the wing, a position which certainly doesn't suit the German international.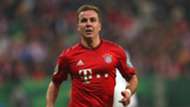 No surprise, then, that his best form has come for the national team. Probing and penetrating, Gotze is constantly on the move, alternating his positioning from playing on the shoulder of the last defender to dropping deep to open up space for Julian Draxler and others.
Since making his debut at the age of 18, Gotze has scored 17 goals in 51 internationals. For Borussia Dortmund, he bagged 31 in 116 games, while at the Allianz Arena he has struck 36 in 114.  When it comes to scoring goals, the Bavarian-born star is actually quite consistent – he averaged 0.3 goals every 90 minutes at Dortmund, 0.44 per 90 for Bayern and 0.53 per 90 for the national team.
The debate about Gotze's role in the side will rumble on for the rest of the tournament. In Low's plan for the European Championship, he expects to change his strategy after the group stages when the demands on the team change. This is what happened in Brazil - the retired Miroslav Klose was drafted in, despite Low playing with Thomas Müller as the 'false 9' for the group phase.
Something similar could happen in France - but Low's options are limited. Gotze is certainly not a world-beater, but the collective is most important in major championships, and the Bayern man will have a hugely important role to play as the Germans look to secure a world and European double.
Goal journalists are powered by the Samsung Galaxy S7 and Gear 360