Mexico
Marco Fabian's Bundesliga hot streak gives Mexico more depth ahead of summer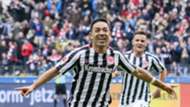 Marco Fabian has gone from not being able to dress himself to making a case for a starting spot for Mexico in a matter of months.
After missing out on March's World Cup qualification matches against Costa Rica and Trinidad and Tobago because of a hip injury that he told ESPN Deportes required help to get his clothes on in the morning, Fabian is red-hot, scoring the first two goals in Frankfurt's 3-1 victory over Augsburg on Saturday.
The double is just the latest time Fabian has found the back of the net, with the former Chivas midfielder heading into Tuesday's cup semifinal with Borussia Monchengladbach having scored four goals in the past three matches. The first of those goals came from the penalty spot, but the 27-year-old has been an integral part of Frankfurt's attack since his return in March.
Sounders return to winning formula
Fabian already has Juan Carlos Osorio's eye, as the Mexico head coach gave him 90 minutes in November's draw against Panama. Though Fabian hasn't been first-choice, he could be playing his way into consideration for a starting look in the friendly matches ahead of June's qualifiers and the subsequent trip to the Confederations Cup.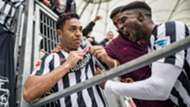 The play out wide hasn't been an enormous concern for the Colombian tactician, with Jurgen Damm the latest player to break out wearing the national team shirt after delivering a stand-out performance against Costa Rica. But the depth of the team was tested with Fabian and Porto's Jesus Corona both injured, CONACAF-based options Giovani dos Santos, Hirving Lozano and Javier Aquino also out with injuries and Damm picking up a knock as well in the win over the Ticos.
All those players are back and, with the exception of Dos Santos, all are in good form.
Fabian and Corona also both stand as examples of what Osorio hopes players in the domestic league will do, getting to Europe as soon as possible. Both have had tough spells going far beyond the small injuries that kept them out of last month's qualifiers, seeing playing time diminish and having to fight for a place. But, while neither player would've been in danger of getting benched and having to push to regain a place in Mexico, they were forced to train harder to get back on the field.
Now they've emerged stronger, and while Osorio already has plenty of options, at least one will start in the Confederations Cup. Lozano and Damm both have flirted with Europe, but stand to gain plenty of money playing with clubs in Mexico, while Aquino remains and Dos Santos both left Europe to return to North America by choice.
Osorio will be thrilled to see Fabian back healthy and performing again, as his midfield depth continues to improve. It will be necessary to have as many players healthy and able to perform as possible this summer, with Mexico taking one team to Russia for the Confederations Cup and another to the Gold Cup in the United States.
Fabian's play in the Bundesliga has showed that he can easily slot into that top group. All he needs to do now to book a summer trip to Russia is stay in good health and keep finding the right spots. The goals will fade, but his reading of the game is at a level it never was with Chivas or Cruz Azul. That means he'll be an option for Osorio and Mexico, adding another player the coach can put his faith in ahead of a busy summer stretch.