Premier League
Manchester United v Manchester City Preview, brought to you by Football Republic - Stakes high for United as City come calling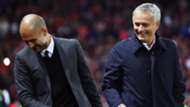 As the half-way point of the Premier League season edges closer, the Big Six of England have steadily staked their claim on the top spots in the table. Sunday, though, will see the top of the table clash between Manchester United and Manchester City that might yet go some way in deciding the eventual champion.
If the feisty history between the cross-city rivals is not enough, the two coaches – United's Jose Mourinho and City's Pep Guardiola share a long and well-documented rivalry. Guardiola's Barcelona and Mourinho's Real Madrid were constantly at each other's throats in the La Liga and the bitterness has spilt over in the Premier League.
The two teams are also enjoying a good run of form. Hosts United are on a four-game winning streak, having recently outplayed an aggressive Arsenal team 3-1 at the Emirates Stadium. City, meanwhile have been colossal, and the only team that has been unbeaten this season in the league.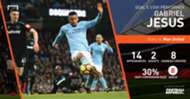 From the 15 games, Guardiola's team has drawn just once, and won the last 13 on the trot. They've also been the most prolific scorers, having netted 46 goals so far. Argentine Sergio Aguero and Raheem Sterling of England have scored nine times each and Gabriel Jesus is close on their heels with eight goals.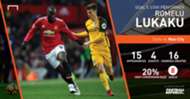 United have held strong in defence, letting in just nine goals in 15 matches. The number could have been much higher if not for the stellar form of their custodian David De Gea. The Spaniard made a whopping 14 saves against the Gunners. They have the attacking firepower as well with Romelu Lukaku, Anthony Martial, Marcus Rashford and Jesse Lingard, who scored a brace against Arsenal, leading the charge.
On Sunday evening, it may however come down to who controls the middle of the park. City's success so far has stemmed from Kevin De Bruyne and David Silva pulling the strings. 
For the hosts, Paul Pogba has been their pivot between defence and attack, but the powerful Frenchman will miss the tie due to the red card he picked up at the Emirates Stadium. Without Pogba,  Mourinho will have to figure who might be able to link up play to the strong front-line.
Over the last few years, City has enjoyed a decent outing at Old Trafford, having won four of their last six matches there. As it stands, the leaders have an eight point advantage over United. But United, the more decorated of the two teams, will be looking to claw their way back into the race.