Manchester City
Man City star Gundogan picks his top three players of all time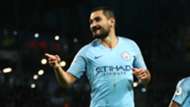 Manchester City midfielder Ilkay Gundogan took to Instagram to answer question from fans Thursday and revealed his favourite three players of all time.
Gundogan is in the midst of a solid season with the reigning Premier League champions and current leaders, having appeared to put the worst of his injury woes behind him.
The midfielder has three goals and two assists in 10 Premier League games, and added another assist in his three Champions League outings so far.
But Gundogan took some time to chat with fans on social media, answering a variety of questions in regards to his career, his team-mates and other things, including who he rates as his favourite players of all time.
Two of the star man's favourites have called time on their playing days after careers than saw them hit highs in Italy and feature for Real Madrid, but Gundogan's top pick remains arguably the game's pre-eminent name.
"1. [Lionel] Messi," Gundogan wrote on Instagram. "2. Kaka. 3. [Zinedine] Zidane."
The end of Gundogan's Borussia Dortmund career and the start of his Manchester City one saw him suffer through multiple serious knee injuries.
However, his initial knee injury at Dortmund actually helped influence his decision to become Pep Guardiola's first signing, saying the coach's interest remained even though he was hurt.
"I was injured at that time but Pep and the club were still interested in me," Gundogan said when asked why he joined Man City. "The coach called me to tell me this.
"Then I knew that's the right step for me. After 5 years in Dortmund it was time for a new adventure."
Gundogan also named Robert Lewandowski and Fabian Delph as the hardest-working team-mates he's ever played with, citing that they "both invest a lot of time to take care of their bodies no matter if it's about training or the perfect regeneration."
Quizzed who was better between Kevin De Bruyne and David Silva, Gundogan went the compromise route, naming Silva the better short passer but De Bruyne the superior one at long balls.
And Gundogan also named the player he considers the best young player out of Germany's next generation – and it is a face he knows well from Manchester City.
When asked who he'd pick out of the talent group, Gundogan answered "Leroy Sane."