Manchester City
Man City forward Sterling explains how he can join Messi and Ronaldo among world's elite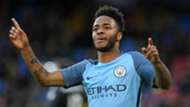 Raheem Sterling believes he can become "one of the best two or three in the world" by adding goals to his game at Manchester City.
The England international still has time on his side at 22 years of age.
Pep on Brexit: We'll go if not wanted
He burst onto the scene at Liverpool while still in his teens, before completing a £44 million move to City in 2015.
They were buying into his ability in the present and future, with his pace and trickery considered to be his biggest assets.
As a forward, though, Sterling is aware of the need to chip in with his fair share of goals, a department he feels he is still lacking in.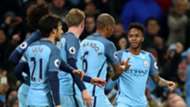 A man with nine efforts to his name this season told The Guardian on his future ambitions: "I should have so many more goals. It's terrible. I should be on about 15-16 goals right now and that's what I need to do to get to the player I want to be.
"Goals can help lift me to be one of the best two or three in the world, most definitely.
"You score the goal that wins the football match five, six, seven times a season: you are one of the best in the world. And that's what I need to do. I need to keep being consistent.
Guardiola: I agree with Mourinho
"I know I'm joking and laughing here – but I take that very seriously. Next year I'm getting there, 100 per cent.
"But this year I've got enough time to get a few more goals – it's just one of those, you need to start scoring goals. I'm putting too much pressure on myself at times."
He added on his changing game under Pep Guardiola: "I'm probably playing a bit more direct, once I get in the final third I make an action, use instinct.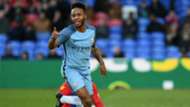 "Before I was a bit more slow, I tried to mix it up. Now I'm just going at it 100%. Before I was trying to be silky. It's just the way we're playing under the manager."
There is, however, only one target in Sterling's mind as he looks to further unlock his undoubted potential - to be the best in the world.
Pep expects Jesus back in City plans
Pressed further on whether that remains the dream, he said: "I'm not going to sit here and say I don't. That's my aim.
"I'm not here to be a number. I'm here to be one of the best, as simple as that. I just need to raise my game – I know exactly what I need to do to go where I want."
Sterling has gone six games without a goal for club and country, with his last effort coming in a 5-3 victory over Monaco in the Champions League which ultimately counted for nothing.