AFC U23 Championship
Syahmi working on his maturity to woo Ong Kim Swee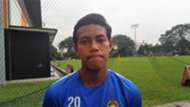 ---
BY        ZULHILMI ZAINAL       Follow on Twitter
---
Malaysia U23's Syahmi Safari has been consistently picked by head coach Datuk Ong Kim Swee's to join the squad throughout 2017. However, the winger could not find significant playing time, due to the fact that he is further down the pecking order and is only 19 years of age.
But ahead of the 2018 AFC U23 Championship finals in China next January, the Selangor player is intent on showing his growth to Ong during the preliminary training camp, which is being held currently.
"It is always an honour to play for the national team, an opportunity that not many players can get.
"I have to show maturity and improvement, even if it's only a little. On top of that, I have to also display that I'm willing to fight for a place (in the squad)," Syahmi said to Goal when met at the Malaysian FA headquarters on Monday.
When asked about his club's pre-season signings, which included two Indonesia internationals, Syahmi remarked that he welcomes the competition for a place in the Red Giants' starting line-up.
"This is good as it will promote healthy competition among the players.
"The individual players too will benefit from it, as it will avoid us from getting too complacent," noted the youngster.