Young Africans
Lwandamina's permit to be solved before Sunday's clash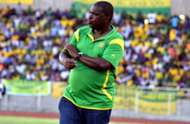 Yanga's administration plans to finalize the work permit of Head Coach George Lwandamina as soon as possible so that he can lead the team from the dugout in the match against Ruvu Shooting on Sunday.
Yanga Secretary-General, Boniface Mkwasa told Goal that the club didn't get the report of their coach's permit expiry and that is why they failed to complete the process on time.
"We have started to work on that and of course before Sunday we will finish the process and the coach will be on the dugout to lead the team. You know we didn't get report early enough from the coach himself that's why we failed to get it timely" said Mkwasa.
Mkwasa also urged the team's fans not to be worried with their team's stalemate against Mwadui FC, citing the reason is because they missed some of their key first team players due to injury.