Romelu Lukaku
Lukaku has become world class since leaving Chelsea, admits Cahill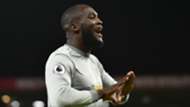 Gary Cahill is impressed by how Manchester United star Romelu Lukaku has developed into a 'world-class striker' since leaving Chelsea.
Lukaku joined Chelsea in 2011 when he was 18 years old, but started only one Premier League game for the club before taking in loan spells at West Brom and Everton.
The Belgian eventually joined Everton on a permanent basis before securing a £75 million transfer to United last summer and the 25-year-old has enjoyed an impressive debut season at Old Trafford.
Cahill played alongside a younger Lukaku in his time at Stamford Bridge, and he admits that he understands his struggles for game time after coming to an elite club at such a young age.
"It'll be difficult. I've played against him and trained against him loads of times," Cahill, who will face Lukaku in the FA Cup final at Wembley on Saturday, said at Cobham Training Centre. "The cup final's going to be whoever performs on the day. We've put the season to bed and we have a full week to prepare in the right way.
"When he was here he had talent but he was very young. He's developed into a world-class striker so credit to him. Sometimes when you're at a club like Chelsea you feel sorry when you see a player move on, because naturally some progress and some don't. You don't hear about the ones that don't.
"We all know it's hard to have time to come in as a young player -- maybe the club and the supporters give you seven, eight, nine games where you're rusty and not performing. It's difficult to do that. They've gone on and developed elsewhere, and he's gone on to be a top player. There's loads of them.
"What everyone can see - pace, power, strength and he can finish. His goalscoring record is very good. But we're not focusing on one player in this team. First and foremost, we're focused on what we're trying to do, and be respectful of the fact that they have numerous players who can turn a game on its head, as do we."
Cahill has had a resurgent end to the season after finding himself playing regularly again following a prolonged period out of Antonio Conte's side. 
However, Chelsea finished the campaign by failing to qualify for next season's Champions League on the back of a limp Premier League title defence and ended the season with a 3-0 defeat at Newcastle.
For Cahill, simply qualifying for Europe's elite competition would not be enough and he wants to round off the season with victory at Wembley.
"I can only speak honestly for myself, maybe the club thinks differently," he continued. "For myself it's about winning competitions. You enter every competition trying to win it, and we fell short in the other competitions but we've not fallen short in this one yet. We're in the final against a good team, but it's about winning trophies.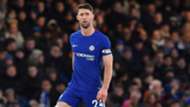 "Obviously, we're disappointed to not be in the Champions League, but if [it were a choice between] not qualifying for the Champions League and not winning anything, I'd definitely swap. That's just my opinion. The Newcastle game has gone from my head.
"In terms of the game we couldn't have done anything with a win, a loss or a draw, so the game has to be put to bed. We have to put that away and focus on the cup final this week. That's what it's about -- training, preparing well this week and getting ready to go into a huge game at the weekend."
"I don't care to be honest [about who's the favourite to win]. Last year, maybe we went in as favourites and lost, but it doesn't count for anything. It's a one-off game and we've got a very good side with lots of quality, lots of experience of winning trophies, as do they. Obviously, they finished higher in the league than us this season, so maybe they are favourites, but we read nothing into it."
Chelsea were beaten in the FA Cup final last season by Arsenal, despite being the favourites after winning the Premier League title.
Cahill admits that those celebrations may have encouraged a relaxed atmosphere, but, with his side struggling in the final two games of the season, he admits that it feels different this time around.
"Yes, looking back at last season the campaign went so well, like what you're seeing with Man City now," he added. "We had two weeks of putting our feet up, relaxing and playing 5-a-side games in training. They've deserved that, as did we last year.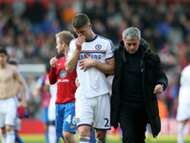 "We trained well but naturally it was a very relaxed atmosphere, because we'd done all the hard work to win the league. When it came to the cup game we thought we'd just deliver what we'd done all season but it didn't happen that way.
"Maybe if we'd won comfortably at Newcastle we'd go in with momentum, or maybe we'd go in a bit more relaxed thinking we're in good form. There's certainly none of that -- we know we didn't perform and this is the chance to win a title this year. The determination is there, for sure."
A number of Chelsea's players will face their old boss on Saturday, with Mourinho leading out United once again. The match is a last chance for silverware this season for both clubs and Cahill believes that the Portuguese head coach will have put in place a detailed game plan.
"A very organised game plan, for sure," Cahill said of how Mourinho will prepare United. "He's got experience. He's a very successful manager and that's not by luck, it's by preparation. We expect nothing less.
"They've got some very strong players and he's used to winning this competition. It's all set up to be a great game, with two big teams putting everything on the line to win a trophy."