NPFL
LMC director, Isa Matori evasive on NPFL revised schedule in circulation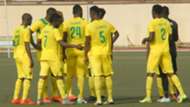 A director of the League Management Company, Isa Matori is evasive regarding the purported league's revised schedule on the social media but enjoined the media to wait for the official pronouncement from the league's body.
Sources disclosed that the Nigeria Professional Football League 2017/18 season will now end on October 28 after over two months hiatus brought about by the leadership crisis in the Nigeria Football Federation.
It was also stated by the same sources that the season is to continue from September second with Matchday 25 games and the amended dates in the revised schedule for the 2018 season indicates that matches will be played both weekends and mid-weeks to ensure that the season ends by the last week in October.
There will be six mid-week matchday fixtures for Matchdays 26, 28, 30, 31, 33 and 35 while the 2018 Federation Cup games are to come along the way also.
In an interview with Isa Matori who is a League Management Company director, he did not deny nor approve of the date in the revised schedule for the season but admitted that Club Owners and LMC directors had a discussion regarding that in one of their social media platforms.
He said the date in circulation in the social media is not sacrosanct yet and that everyone should be patient for the league organizers to make a pronouncement on it.
"I will not like to make any comment on it because pronouncement of such magnitude must come from the right channel which is through the LMC," Matori told Goal.
"What I can say on it is that Club Owners and some LMC directors had some deliberations and certain date but it has not been rubber-stamped because it has not been approved by all. I will advise the media hold on a little while the LMC makes a statement on it.
"I know that with the advent of social media there is nothing hidden for long but what I have told you is the true fact. The LMC and the Club Owners must come to a roundtable and agree on the date.
"I know that with the league being on recess for over two months all clubs are eager for it to continue. Things must be done the right way."
The last league fixtures were decided on June 10 before the league proceeded on break for the 2018 World Cup and to resume on July 18 but upheaval in the leadership of the NFF has forced the league resumption to be postponed.
With the adjustment in the programmes of Confederation of African Football for the 2018-19 season which will now run from August to May next year the NPFL season must be concluded before the start of November when the preliminary rounds will be held to prevent Nigerian teams' disqualification.