Young Africans
Ligi Kuu Wrap: Yanga to fine Ngoma for indiscipline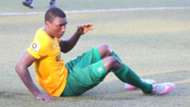 ---
Yanga to fine Ngoma for indiscipline
---
The Tanzanian Premier League reigning champions Yanga have had enough of their star striker drama and are now set to punish him for his indiscipline.
Ngoma left the country and returned to his home country without permission from his club.
The Zimbabwean striker has only played three matches this season scoring two goals but had been on sidelines due to injury and is currently back in Zimbabwe, something that hasn't been well received by some fans and members of the club.
---
Nickson Kibabage signs for Mtibwa
---
Serengeti Boys defender Nickson Kibabage has signed a two year deal with Mtibwa Sugar.
Kibabage impressed during the African Championships in Gabon and has now secured a professional deal with Mtibwa Sugar.
Mtibwa Sugar is currently fifth in the league with his last outing ending in a 1-1 draw with Azam FC.