African All Stars
Leon Balogun thrilled with Brighton and Hove Albion debut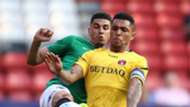 Leon Balogun is delighted after making his debut for Brighton and Hove Albion in their 1-1 draw with Charlton Athletic on Tuesday.
The 30-year-old who joined the Premier League side from Bundesliga outfit Mainz 05 in June featured for over an hour in the encounter.
Although pleased with his maiden appearance, he is looking to fit into the squad and improve on his game.
"I'm an aggressive player with the typical German discipline, but what I am trying to do now is fit in, because there are some differences," Balogun told club website.
"I like the physical aspects of the game, and I am also looking forward to experiencing the atmosphere here, which I got a sense of in the game on Tuesday.
"I enjoyed it a lot, and I wanted to soak it up. Now I want to give my all and just try to improve."
The defender acknowledged the warm welcome from the club on his arrival and admitted that he is settling in well at his new abode.
"I posted something on Instagram and I had a very warm welcome, I think we have a nice group with a great team spirit," he continued.
"I took some time to walk through the Laines at the weekend which I enjoyed a lot.
"It's very multicultural with a lot of creative people; I like the scene in Brighton and I think this could be a wonderful time for me over here."
Balogun will be hoping to get more playing time under his belt when Brighton take on Birmingham City in their next pre-season friendly tie on Saturday.