African All Stars
Leicester's Wilfred Ndidi reveals why teammates named him 'teddy bear'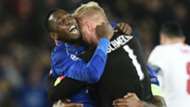 Despite boasting of a 6ft 2in frame to match with an aggressive style of play, Wilfred Ndidi still managed to earn the nickname 'teddy bear' from his Leicester City teammates.
The 20-year-old explained that because he is often the subject of jokes in the Foxes' rank it was deemed fit for him to bear the name.
"They call me the teddy bear because people always try to get to me and try to have fun with me," Ndidi told Leicester Mercury.
"Somebody must always do something to make others laugh and I am always the victim.

"The players have helped me on and off the pitch, but they make fun of me and play with me.

"I had to do an initiation. I had to sing a song before my debut at Everton. I can't say what the song was. I was not good at singing. I knew I didn't well."
The former
Genk
midfielder also spoke about settling in the demanding English game, saying: "I have settled in very well," he said. "The players have given me great support, and the people I have around me.
"I have two people here who give me a lot of support. One of them is the president of the Nath Boys, where I played as a boy, who is British and he lives in London. That has made it easy for me,'' he continued.
"English football, apart from being aggressive and strong, there is a lot of experience and knowledge.
"You have to think about how you play. You don't get time on the ball. There is more urgency.
"I am enjoying it very much. I just try to play my game and be myself, and work hard for the team."