Transfers
Lee Nguyen traded to Los Angeles FC in exchange for allocation money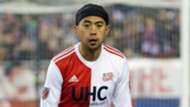 The Lee Nguyen saga with the New England Revolution has finally come to a close. The 31-year-old midfielder was traded to Los Angeles FC on Tuesday in exchange for $700,000 in allocation money, the Revolution announced late Tuesday night. 
Nguyen held out of training camp with the Revolution and has not played a minute for the club during the 2018 season. 
Rumors in the offseason were that the midfielder was actively seeking a way out of New England, and the club has finally allowed him to find a new home with the trade. 
LAFC will give the Revolution $350,000 in general allocation money and the same amount in targeted allocation money, though the total figure could rise to $950,000. The Revolution also have the potential of landing LAFC's natural first-round pick in the 2019 or 2020 MLS SuperDraft.
In 199 matches with New England in the MLS regular season and playoffs, Nguyen netted 53 goals and added 53 assists. 
"On behalf of the club, I'd like to thank Lee for his years of service," Revolution general manager Michael Burns said. "Every decision is made in the best interest of the club, and we feel this move helps strengthen our team now and puts us in the best position to succeed in years to come."
LAFC's decision to move for the Texas native follows the news on Tuesday that the club has lost starting forward Marco Urena for at least a month following a facial fracture suffered in Sunday's win over the Seattle Sounders. 
Nguyen will be familiar with Bradley, having played under the LAFC boss while Bradley was managing the U.S. national team. 
LAFC is back in action this weekend with a crucial Western Conference clash against FC Dallas.