AFC Champions League
Last chance saloon for Seoul, Wanderers - Damjanovic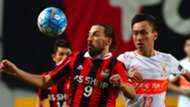 ---
EXCLUSIVE
---
Dejan Damjanovic has argued FC Seoul's AFC Champions League (ACL) clash with Western Sydney Wanderers could be "the last chance" for both clubs to avoid elimination from the group stage.
Western Sydney may have knocked Seoul out of the ACL in 2014 on their way to the title, but Damjanovic insists revenge is not a factor as his side prepares for the visit of the Wanderers on Wednesday night.
Seoul and the Wanderers have yet to register a point in Group F, leaving them both six points adrift of top-two Urawa Red Diamonds and Shanghai SIPG.
Damjanovic expects both teams to go all out for the three points rather than sit back and look to play on the counter.
"They're in the same position as us, so they will try to make some good results to keep them in the group," the 35-year-old told Goal.
"It's going to be for us maybe the last chance to come back in the group to make any chance for qualification. We need the three points to keep any chance to qualify from this group.
FC Seoul - Western Sydney Wanderers Preview
"So honestly I am not sure how they will play, but for sure they will not just defend and hope for some lucky goal on the counter attack, they're going to try and play football.
"That's normally how you have to play in the Champions League if you want to get good results, especially in an away game, you can't depend only on defence and wait for the counter attack. When you play like this it's very hard to get good results."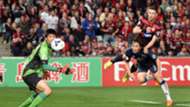 In 2014, the Wanderers defeated Seoul 2-0 on aggregate in the ACL semi-finals thanks to goals from Mateo Poljak and Shannon Cole at Wanderland.
A year later, Seoul and Western Sydney met in the ACL group stage with both games ending in draws.
Western Sydney Wanderers 2 FC Seoul 0
Damjanovic, who wasn't involved in any of those matches, added: "For sure there will not be any kind of revenge.
"In 2014 they were unbelievable. They showed that Australian football is getting better and better, I am happy that somebody else won the Champions League other than Korean teams and Guangzhou [Evergrande] a few times."
Despite their success last season, when they won the K League championship and made the ACL semi-finals, Seoul have struggled at the start of 2017, which has puzzled Damjanovic.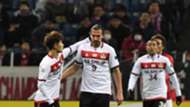 "Honestly we didn't play good, it looks like we played together for the first time," the Montenegro international admitted.
"I think just mentally we were not ready for the game, and that was the biggest problem. You need to prove yourself every game, you need to prove to yourself that you are the best and you deserve to play at Seoul in the Champions League.
"Maybe it's good to happen in the beginning of the season so that everyone can calm down and can come back in the normal mind, and we still have the time we need to recover."
ACL 2017: Wanderers thrashed, Hulk overcomes FC Seoul
A 1-0 win on the weekend away to Gangwon, thanks to a goal from Damjanovic - his 164th for the club - has momentarily eased some of the pressure on Hwang Sun-hong's team.
"This game in Gangwon, the pressure was on us and the pitch was awful, the weather was a bit cold and it was a really tough game," the veteran centre-forward said.
"Luckily I scored a goal and we got the three points, and the pressure has gone down a bit so we are in a much better mood."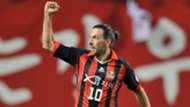 Despite their slow start to the season, Damjanovic is still confident they can catch either SIPG or Urawa and qualify for the knockout rounds.
Consecutive ACL fixtures against the Wanderers will be critical.
FC Seoul tracking Rhys Williams
"Our group is incredibly hard and the first two games show this," the former Beijing Guoan and Jiangsu Sainty striker said.
"We are not in the best position, and now we have two games against the Australian team and Shanghai play directly against Urawa, so we need to do our part and make the best of these two games, and if it's possible to take six points.
"I cannot guarantee [anything] but for sure we will try, and then we have a game against Shanghai over there. I am sure they are not better than us and we will not lose there if we make these two games good.
"In the end we have enough quality to pass this group, so we just need to show [that] and we need to perform better than these first two games."
Seoul started Group F with a 1-0 home loss to SIPG before being crushed 5-2 by Urawa on Matchday 2.