Kevin-Prince Boateng
Las Palmas open to Boateng departure despite outstanding form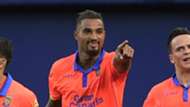 Spanish club Las Palmas will not stand in Kevin-Prince Boateng's way of joining another club should the Ghana international decide  to pursue a career elsewhere, president Miguel Angel Ramirez has said.
The 30-year-old joined the Yellows on a one-year deal in summer last year but his purple patch of form could paradoxically block a possible contract extension, with a host of clubs looking to woo him away.
In 25 La Liga matches involving 22 starts, Boateng has netted nine times, his highest number of goals in a season.
"In April, we triggered the option to renew Boateng's contract," Ramirez told Radio Nacional.
"If Kevin comes to me in the summer and tells me there is a team that wants him and is offering a better deal, then I have to let him go.
"It is because I contacted him and asked him to come, on a free. There is nothing we can do. 
"He came for a year and we asked him to stay for another. He accepted, but if he is unsettled.
"He may stay on next year, or not. Things are pretty clear."
La Liga side Valencia is reportedly one of the clubs lurking around for the attacker.
Born in Germany, Boateng played for Bundesliga outfits Hertha Berlin, Borussia Dortmund and Schalke 04.
He was also on the books of English clubs Tottenham Hotspur and Portsmouth as well as Italian giants AC Milan, with whom he won the 2010-11 Serie A title and the 2011-12 Super Cup.