WTF
Kroenke's trophy hunt – Arsenal owner launches controversial online TV channel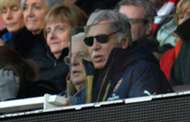 Arsenal owner Stan Kroenke faces a backlash from animal rights activists over a controversial new app launched in the United Kingdom.
Subscription channel My Outdoor TV (MOTV) allows viewers to watch shows dedicated to bloodsports, including those depicting endangered animals, such as African elephants, being killed.
Speaking to The Times, Simon Barr, the channel's spokesperson, said: "MOTV will present ethical, fair chase hunting and as long as it's legal it will be on there.
As an #Arsenal supporter I have to pay money to this person. I feel sick. @thetimes pic.twitter.com/MRjiTisPkE

— Robert Peston (@Peston) July 31, 2017
"I'm sure people won't like all the content on MOTV, but it won't be censored. On every film there's an explanation of what hunting does for conservation and the local community."
Philippa King, CEO of the League Against Cruel Sports, hit back, stating: "We're living in a world now where most people can see how brutal and shameful trophy hunting is, yet the Arsenal boss is choosing to launch his sick TV channel in the UK.
"I'm not sure in what way an idiot with a gun against an elephant is a fair chase.
'Wenger must do whatever it takes to keep Alexis'
"Mr Kroenke could do the world a great favour by stopping peddling this kind of sickening TV and turning his focus on helping animals he apparently likes to see killed."
Kroenke is reportedly worth €7.4 billion, though his Arsenal side have failed to win the Premier League title since 2003-04 and will not take part in the Champions League this season after finishing fifth last term.