Premier League
Klopp finally finds his perfect Liverpool midfield & five tactical lessons learned from the Premier League weekend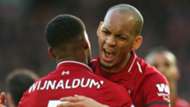 Following a month in which nervous performances and dropped points suggested both Manchester City and Liverpool were feeling the pressure of the title race, this weekend's games were an emphatic rejection of that hypothesis.
Easy victories over Chelsea and Bournemouth respectively reconfirmed that the fight for the title will go right to the wire.
Elsewhere, Manchester United moved into the top four for the first time this season as Chelsea dropped all the way down to sixth following their humiliation at the Etihad.
But, looking past the scorelines, what were the main tactical lessons to be taken from the latest round of fixtures?  Goal  takes a look at the biggest talking points...
---
Martial benefits from Solskjaer's back-to-basics approach
---
Although Ole Gunnar Solskjaer has dramatically altered Man Utd's style of play, he clearly has not attempted to drill complex tactical instructions into his squad, instead handing responsibility to the players while championing individual expression.
Returning to a simpler style of attacking football has been crucial to the club's revival, and the latest example of his back-to-basics approach was to stick Anthony Martial on the left flank against Fulham.
Where Pep Guardiola might overthink things (see his unusual 3-2-2-2-1 against Arsenal, who surely would have crumbled no matter the system) Solskjaer certainly does not; spotting Fulham's obvious weakness at right-back, he instructed Martial to simply sit on that flank and run straight at the defence.
Denis Odoi was terrified of Martial's speed, consistently backing off the France international until, in the 14th minute, the winger had all the time in the world to pick a through ball for Paul Pogba's opener.
Martial's superb individual goal soon after was made possible because Odoi left his flank completely open and could not recover. Fulham are weakened on their right, so stick a fast player on that flank and keep giving him the ball; sometimes football really is that simple.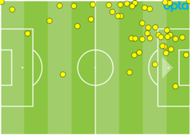 PIC: Martial touches vs Fulham
---
Lost boy Kante again struggles in strict Sarri system
---
Chelsea had intended to press Man City when the sides first met back in December, mimicking the approach Maurizio Sarri took with Napoli last season when Pep Guardiola's side were twice unnerved in the Champions League.
Sarri's new side, however, were not able to do so at Stamford Bridge, finding themselves penned in before hitting City on the break.
Why, then, did Chelsea press so aggressively at the Etihad Stadium on Sunday?
It is a very high-risk strategy that was never likely to pay off. By pressing the ball so high up the pitch, Chelsea galvanised City, forcing the hosts to raise the tempo. But, more importantly, it meant a huge gap developed between the defence, who were unable to push higher than the halfway line, and midfield, which frantically closed down 20 yards further up.
City are superb at passing quickly to outmanoeuvre the press, and once they had evaded the first wave it was simply a case of ghosting past the overworked Jorginho.
Italy international Jorginho was forced to take down Kevin de Bruyne after the Belgian had turned him in the fourth minute, and City opened the scoring from the resulting free-kick.
It seems obvious that N'Golo Kante should be in a deeper role alongside Jorginho, and yet Sarri is stubbornly refusing to adapt his approach. Kante looked lost, struggling to keep hold of the ball in City's third and unable to track back effectively.
---
New-look Aguero leaves Chelsea in a daze
---
What was most surprising about Man City's attacking performance on Sunday was Sergio Aguero's role in capitalising on that gap between Chelsea's midfield and defence.
He repeatedly dropped off to the left of centre into the space where Kante should have been, receiving the ball to feet and turning sharply to drive at the defence.
Aguero's second goal came from his clever movement into this pocket, and Man City's fourth – scored by Ilkay Gundogan – was set up by the Argentine picking up the ball in that left-centre area and laying it out wide for Raheem Sterling.
Chelsea just could not get a handle on Aguero, who Sarri would have anticipated staying up front to challenge the centre-backs.
It was arguably Aguero's most accomplished performance of the Guardiola era – and a performance that exemplified the dramatic change in his playing style under the Catalan's tutelage.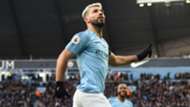 ---
Klopp finally finds his ideal midfield trio
---
They have not managed to play together too often this season, but Fabinho, Naby Keita, and Georginio Wijnaldum proved on Saturday that they should be considered Jurgen Klopp's first-choice trio in central midfield.
Each player brings a different quality in the middle of the park, and yet all three are mobile and quick on the ball, ensuring Liverpool can play with the speed and fluidity Klopp craves.
Fabinho's range of passing, plus his defensive strength, makes him ideal to screen at the base of Liverpool's midfield, while his clipped balls over the top are becoming a crucial element of the counter-press.
Keita's dribbling through the centre breaks the opposition lines, creating an element of chaos that prevents teams from simply sitting back and absorbing pressure. His through ball for Roberto Firmino, leading to Mohamed Salah's goal against Bournemouth, was the pass of the game.
Wijnaldum's absence was keenly felt at West Ham last Monday, but against the Cherries he consistently made runs ahead of the front three, appearing unexpectedly in the final third to confound the Bournemouth centre-backs.
Liverpool lacked that cutting edge at the London Stadium partly because Adam Lallana failed to take the sort of risks that define Wijnaldum's intelligent, attack-minded approach.
---
Tielemans brings the best out of marauding Maddison
---
Leicester City were unlucky to lose to Tottenham on Sunday after a confident attacking performance that should have led to more goals.
January signing Youri Tielemans made a big difference to their style of play, transforming Claude Puel's prosaic football into something considerably more urgent and fluid.
Tielemans was the most advanced of the midfield three in Puel's 4-5-1, which meant James Maddison dropped deeper than usual. Consequently, Leicester had two central midfielders searching for a clever forward pass and capable of slipping the ball in behind the Tottenham centre-backs.
Usually Nampalys Mendy slows the game down, but instead Maddison saw plenty of the ball deep in midfield and looked to bring the wingers into the match as quickly as possible.
If only Jamie Vardy had started the match, Leicester may have taken advantage of the Tielemans-Maddison partnership.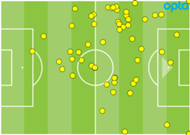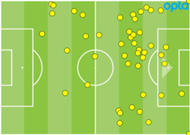 PIC: Maddison touches vs Spurs (top) and Man Utd (bottom)