PSL
Khoza and Motaung vow to get to the bottom of Soweto Derby stampede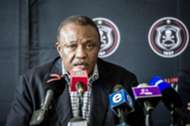 Orlando Pirates chairman Dr Irvin Khoza and Kaizer Chiefs boss Kaizer Motaung have both vowed to the get to the bottom of a stampede that led to two fatalities on Saturday. 
The two respected football bosses said there are still more answers than questions regarding the tragic incident at the FNB Stadium. 
Khoza stressed that that no stone will be left unturned during the investigation process.
"Saturday was meant to be a season opener where Orlando Pirates and Kaizer Chiefs were meant to display their new signings - giving a glimpse of what the supporters and nation can expect in the new season," Khoza told the media.
"There was an unfortunately an incident that led to fatalities. Let me say this from the onset - no one goes to a soccer match to die. This incident led to two people dying is a tradegy which should make us stop and pause to ensure that there will never be a repeat of the same incident," he continued.
"I assure you that no stone will be left unturned in the investigation to find out the causes of these tragic events. Mr. Motaung and I recuse ourselves from this process, the independent investigator must produce a full report within 14 days," Khoza explained.
 
"The game was not stopped because we had to abide by safety and security regulations. The only person on the pitch is the referee who can stop the game. We are asking now for patience to investigate all the facts to see what preventative steps could have been taken," he said.
 
Meanwhile, Motaung echoed Khoza's sentiments and he also revealed that they are considering organizing a memorial service for the two deceased.
"I would like to take this opportunity to endorse what Dr Khoza has already said. I don't want to repeat everything that he said," Motaung stated.
"We are very much touched about what happened on Saturday because this has happened before and we have gone the same route before. None of us at this day and age expected something of this nature to happen, but unfortunately, life has its own challenges and some times history repeats itself," he continued.
"We are contemplating to organize a memorial service when we get all the identities of all the people who passed away. So, I share the same sentiments with Dr Khoza that it's important for us not be involved in the investigations because we might be accused of investigating ourselves," he explained.
"There will be an independent inquiry to deal with it in an approprite manner. We will address the media in due course once more information is gathered," Motaung concluded.
Allegations of fake tickets that were sold at the venue have also been made by authorities.
According to Stadium Management SA's CEO Jacques Grobbelaar, at least 3500 illegal tickets were consficated at the match venue, and two individuals were arrested in connection with the selling of the tickets.
"We involved the Hawks who arrested two people and seized about 3500 counterfeit tickets. But our suspicion is that there were between 5000 and 6000 tickets in total,"
"We will be engaging Computicket in this regard. We believe the syndicate which operates on illegal tickets originates from Computicket because the counterfeit tickets were printed on the stationery found only at Computicket," he said.
One of the deceased fans has been identified as Prince Chauke (30) from Mpumalanga. The identity of the other fan is still being established.
Meanwhile, a female fan, who was badly injured during the stampede, has been taken off life support at the Chris Hani Baragwanath Academic Hospital and she's now stable.