NPFL
Katsina United win will boost Kwara United's confidence - Anthony Wilson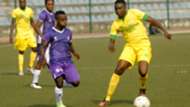 Kwara United's Anthony Wilson believes his side's recent 2-1 win over Katsina United at the Kwara State Sports Complex will improve their confidence.
Emeka Godwin and Alfred Stephen's strike inspired struggling John Obuh's men as they piped the Chanji Boys to earn their third win of the season.
And the former Kogi United man is hopeful they can remain unbeaten in at least two straight matches for the first time this season, starting with Nasarawa United clash at the Lafia City Stadium.
"We are very happy with our home win against Katsina United. It came at the right time for us and it was a product of our fighting spirit as a team," Wilson told Goal.
"We have had a rough beginning this season and we are not pleased as players. That's why we came out strong against Katsina and we are glad God rewarded us with the victory.
"A lot of people including the fans are not happy with our performance this season, likewise us the players but we must just stay focus and keep fighting together.
"We must look ahead for upcoming matches and prepared well for them. I believe the victory over Katsina will really boost our confidence to challenge for the top four. We will play Nasarawa United next and it is another important game because we are both in the north-central.
"I see Nasarawa are not at their best yet, so I believe it is another chance to get something tangible away from home. The game will no doubt be tough but we can beat them. Nothing is impossible."