England
Kane: My corners blown out of proportion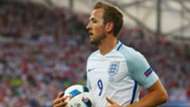 Harry Kane has explained how he came to take corners for England at Euro 2016, revealing that he was chosen out of a "few players" within the squad.
Kane has not yet scored for England at the tournament in France, and his chances of doing so were somewhat diminished in the first game against Russia, as he repeatedly attempted to deliver the ball into the box.
The Tottenham striker, who scored 28 goals for Spurs in 2015-16, was removed from set-piece duty after the disappointing 1-1 draw in England's opening fixture, but he insists that more has been made of Roy Hodgson's decision than necessary.
"It was something we tried when we first met up for the Turkey game," Kane told the Daily Mail. "At the time we had a lot of tall players in the team and they saw the delivery I had and wanted me to put it in the box. We did it then and it stuck.
 "I'll listen to the manager. If he wants me to do something, I'll do it. The manager wanted me to take them so I took them.
"There were a few players taking them. We always practice set-pieces. Nothing was really said until immediately before the game when it was up on the board about who was taking what. I was happy to do it. I think it's been blown out of proportion a bit."
Kane's lack of goals has led to concerns among Three Lions fans, and the striker was rested for the 0-0 draw with Slovakia, with Jamie Vardy and Daniel Sturridge selected instead.
However, the 22-year-old insists he has not yet been presented with a clear-cut chance as England prepare to face Iceland in the last-16 on Monday.
"There's not been a clear chance where I'd say: 'I'm disappointed I missed that'. I'm not coming away from games saying: 'Wish I'd scored that one — that was an easy chance'. You just have to be ready for when that chance comes. And I'm someone who will definitely be ready," he added.