PSL
Kaizer Chiefs coach Komphela not getting carried away after beating Orlando Pirates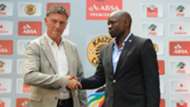 Kaizer Chiefs coach Steve Komphela says it's still early to judge their readiness for the season despite their 1-0 victory over Orlando Pirates , but he hopes they maintain their momentum
"These are pre-season matches. The first match sets the tone to the season as the chairman said. So, it's important to maintain that," Komphela said post-match.
The Amakhosi coach was pleased with the fact that they were able to keep a clean-sheet.
"The only thing one can say here, we are happy for ourselves and our people here. Tomorrow we are out there again (on the training field). We have to take it forward," Komphela said.
"One thing that I'm happy about today is the fact that we managed to keep a clean sheet," Komphela added.
Meanwhile, Pirates coach Kjell Jonevret believes they lost the match in the first half after Bernard Parker fired home what proved to be the winner in the opening 10 minutes.
"First half, the team was a little unbalanced. We had problems in defence and offence. After they got the first goal, we ended up losing the ball too often and they countered us a lot, we were lucky not to concede," Jonevret said.
They had chances to draw level after the break, particularly with substitute Bernard Morrison hitting the upright, but it wasn't going to be their day.
"We picked up a bit in the second half, the squad changed and with a little luck, we could have scored the equalizer. But overall it's a bit disappointment to lose this game," Jonevret said.