Mexico
Juan Carlos Osorio: We believe more in the collective than the individual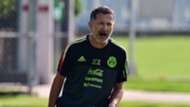 Mexico coach Juan Carlos Osorio will continue with his squad rotation policy this summer, noting that several players have seen a boost they may not have otherwise.
The policy has been heavily criticized by the Mexican press, but while Osorio said the critics are within their bounds to speak out against him, he has been largely indifferent to the harsh judgments en route to a 13-1-2 record since the start of 2016.
Chivas alive but streak a concern
"As the leader of this sporting project and this process, I have to make the decisions at the end, and I take that on. But I also understand that everyone has the right to express their opinion," Osorio told TDN. "Basically, we believe more in the collective than the individual, specifically that the individual has to be available serve the collective. If its the other way around, there's no chance of success.
"That's the principle and the internal competition is what brings us to rotate people. But I have to say that at the same time, today there are four or five players who (without rotations) wouldn't have had a chance with the senior national team."
Osorio said the wingers and central midfielders, who play at positions where El Tri has shown depth are among those who have seen the most growth, with Chivas midfielder Orbelin Pineda and Pachuca winger Hirving Lozano among those who not only have seen an increase in national minutes but also are getting attention from clubs outside North America.
Sources: MLS getting offers for Larin
"Orbelin, Hirving, Jesus Duenas, Jesus Molina, I think they're players who have benefited from the rotation," Osorio said.
Mexico returns to action later this month, meeting Croatia in a friendly in Los Angeles before squaring off with Ireland in another friendly. The team then enters into a critical stretch with two World Cup qualificatioin matches preceding a trip to the Confederations Cup.