JSSL's Venetia Lim shows off her keepy-uppy skills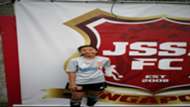 Venetia Lim is one of JSSL's most promising young female footballers. She recently trained with Arsenal Academy U15 Girls and currently trains with the male footballers of her age in JSSL.
Here she shows Goal Singapore some of her skills which include a solid 30 second keepy-uppy.
And a little skill to go along with that...