Jozy Altidore
Jozy Altidore becomes second youngest U.S. player to reach 100 caps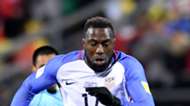 With his start in a friendly against Serbia on Sunday, Jozy Altidore became the second youngest U.S. player to reach 100 caps.
At 27 years and 84 days, Altidore reached the century mark at a younger age than any other American player except for Landon Donovan, who earned his 100th cap at 26 years, 96 days.
Altidore set to reach 100th cap a well-rounded striker and key U.S. leader
"It's a huge honor to get such a milestone after having this as my dream as a little kid, wanting to play on the biggest stages and represent my country," Altidore told USsoccer.com earlier this week.
"Looking back at all the games I've been able to play, all the great memories I've been able to have with so many great players, so many events and so many competitions … to be able to have that all culminate on Sunday and be able to look back on all those games, I'm so proud and really honored to have had the opportunity."
The Toronto FC striker made his senior debut in November 2007 at age 18. He has gone on to score 37 goals for the Stars and Stripes, good for third all time and 20 behind Donovan for the most ever with the U.S. national team. 
Altidore is the 17th American to reach 100 senior international caps. Cobi Jones has the most caps ever for a U.S. player with 164. 
The USA and Serbia drew the match 0-0.