MLS
Jordan Morris tunes out — then silences — critics in Seattle Sounders' run to MLS Cup final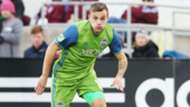 TORONTO — A five-game scoreless streak is no reason to panic for most MLS strikers. And for a rookie kicking off his career? Most definitely not.
But Jordan Morris is no ordinary MLS striker, and he's no ordinary rookie either. As the most hyped (and most highly paid) homegrown player in league history, the Seattle Sounders forward kicked off his MLS career this past March under the shine of a considerable spotlight.
"At first, that pressure was tough," Morris said. "I think I let it get to me and not scoring those first five games, or whatever it was, a lot of people were quick to write me off already. I think I let that get to me too much. But after that, I scored my first goal and got the monkey off my back a little bit and realized that outside noise doesn't really mean anything — whether it's good or bad, it's not going to help me on the field."
READ MORE: Marshall, Moor take parallel paths to MLS Cup
That first professional goal came April 16. A week later, he made it two in as many matches — then three in three games, and four in four. But it wasn't until mid-August, when then-leading scorer Clint Dempsey was sidelined by an irregular heartbeat, that Morris truly came into his own.
With five goals over a stretch of six starts, Morris joined interim coach Brian Schmetzer and midseason signing Nicolas Lodeiro in sparking the Sounders' surge from ninth in the Western Conference to fourth. His second-half brace in a 4-2 win at the LA Galaxy on Sept. 25 — including a brilliant individual display on the go-ahead strike — was particularly crucial. By season's end, he had 12 goals to top the Sounders and nab Rookie of the Year honors.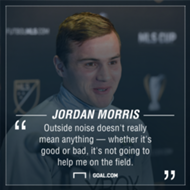 And the 22-year-old has stepped up in the postseason, scoring in each leg of the Western Conference final win over the Colorado Rapids. Embracing a move to the flank, Morris has punished back lines throughout the playoffs by harnessing his considerable pace and physicality. When Morris gets a full head of steam in space, there's not much a defense can do to slow him down.
Almost exactly one year after Morris led Stanford to a College Cup title, he'll look to win his first professional trophy as the Sounders face Toronto FC in the MLS Cup final Saturday at BMO Field.
"I think you've seen that he already has the physical tools to be a good pro, but we're continually working on his strength and his speed and his ability to be a physically imposing player," Schmetzer said. "His growth is steady. It's going in the right trend and he's got a high ceiling — he's got a really high ceiling."
It's what American soccer fans have hoped to see since August 2014, when Morris became the first active college player in 15 years to earn a U.S. national team call-up. He scored against rival Mexico the subsequent April, and helped set up Bobby Wood's winners over the Netherlands and World Cup champion Germany that June.
He also lived up to expectations on the college level, netting twice in the College Cup final victory last December before claiming the Hermann Trophy a month later. By the time Morris finally signed with the Sounders in January, the hype train had been speeding up for 17 months.
"Here's a kid who came into the league under an incredible amount of pressure, from the beginning was built up to be something — in some ways bigger than he needed to be, for a young player who was just coming out of college," said Toronto and U.S. captain Michael Bradley. "But he took everything in stride. In moments when people were ready to come down hard on him for missing too many chances or letting a few things get away from him, he didn't let it bother him one bit. He has gotten better and better as the year has gone on, and you don't see that in many young players."
Seattle midfielder Cristian Roldan added: "I think his attitude has changed. He doesn't care what people think about him anymore. I don't think he really listens to the negative stuff."
INSIDE OPTA: Morris poses problems for TFC in MLS Cup
The setbacks extended well beyond that early drought. The attacking focal point of the U.S. Under-23 team, Morris missed out on the Summer Olympics after seeing his side drop a March playoff against Colombia. In May, he was left off the U.S. squad for the Copa America Centenario as coach Jurgen Klinsmann instead rounded out his forward corps with veteran Chris Wondolowski.
Morris had hoped the summer of 2016 would've involved choosing which prestigious tournament to take part in. Instead, he watched them both from home.
"This season has sort of been the evolution of Jordan," Sounders captain Brad Evans said. "Maybe it was not making the Copa America roster that kind of spurred him on in the second half of the season — 'I should have been there, and let me show you why I should have been there.' He did that, and he made a statement."
In doing so, Morris has the Sounders on the verge of their first MLS Cup title. While Morris trialed with German side Werder Bremen this past winter, the Seattle native ultimately couldn't turn down the allure of playing for the team he had watched throughout his childhood in the USL and MLS.
Being anointed as your hometown team's savior before playing a single game? Perhaps, in this case, swapping the Bundesliga for MLS wasn't the easy way out.
"It's definitely surreal that I'm going to represent this city and play on this great club and be in the situation we're in now," Morris said. "It's a pretty surreal feeling, but it's obviously very exciting and one that I've dream about since I was a little kid."