Johor Darul Ta'zim
Safawi stands to gain from Diaz's fiasco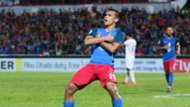 There's no two way about it, the sudden departure of Jorge Pereyra Diaz leaves a gaping hole in JDT's attacking front line but it is not time for fans of the club to fret just yet.
The 27-year-old Argentine do bring a lot of guile and quality to JDT's attack but there is a ready-made replacement within the squad and now may just be the time to show some faith to one Safawi Rasid.
The Dungun-born forward who will turn 21 in a week's time, joined the Southern Tigers after an impressive 2016 season with T-Team FC and has grown in leaps and bounds since then.
Two attention-grabbing tournaments for the Malaysia Under-23 squad in the SEA Games last year as well as the AFC U23 Championship two months ago, have propelled Safawi into the limelight and showcased his blossoming talent.
So much so that in the latter tournament in China back in January, Safawi's exploits also caught the attention of clubs in South Korea, a league that is undoubtedly of a higher quality than the Malaysian league.
Comparing Diaz and Safawi, there's are clear similarities between both players in the fact that they are capable runners with the ball and defenders will admit their disdain for players running directly at them.
Both are capable of getting goals despite nominally not starting as the central attacking striker. Diaz is predominantly a right footer but can offer threats with his weaker foot, the same cannot be said of Safawi, who is very much a typical left footer player.
It will always be hard for any player to get into his groove when he's only coming into the match with 20-30 minutes left on the clock and sometimes when the game is already decided. That'st the existing situation with Safawi when Diaz was still in the squad and very much the preferred option.
There are plenty of growing up and maturity still to be had with Safawi in the way he approach the game and his decision making. Learning on the job is still the best case scenario when it comes to football.
Players in Malaysia tend to be trusted a little bit later in their career but given the trajectory of Safawi's career, the time is now to throw him into the deep end, to see whether he swims or sinks.