CAF Confederation Cup
Johnson: Platinum Stars will be ready for Caf Confederation Cup group stage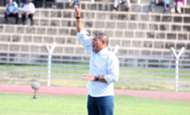 Platinum Stars coach Cavin Johnson is looking forward to participating in the 2017 Caf Confederation Cup group stage after beating Ivorian side AS Tanda in a play-off over the weekend.
"In one moment, we knew that when we played in this competition that if we end up in the group stage, you will have a bit of a struggle in pre-season and not having an off-season. We initially told the guys what's going to happen so that they need to be prepared," Johnson told Goal.
Dikwena beat Tanda 5-4 on penalties in the second-leg after the tie ended in a 2-2 stalemate at the Royal Bafokeng Stadium on Sunday.
"As a club we will have to find some new players during the off-season and hopefully we will be able to register them for the Caf competition and for the new PSL season. But we're aware of things like these," he said.
"I've told everybody that the good thing about us is that we have a fantastic facility at the Bafokeng (Sports Campus), where we are able to keep the players as fresh as possible," Johnson said.
"We just have to make sure we improve in some areas so that we can use the facility to the fullest," Johnson concluded.