PSL
John Comitis insists Cape Town City are in the clear regarding shirt sponsorship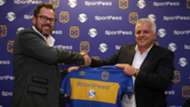 Cape Town City chairman John Comitis is adamant the sponsorship deal they have struck with SportPesa is above board, and that they 'have done nothing wrong'.
"I think (the PSL) are on a big witch hunt here and quite frankly we are 100 percent confident that we have done nothing wrong'" Comitis told Sowetanlive.
According to the publication, the Citizens could be expelled from the league where they will be docked points in all the games which they played using the branded the betting company on the front of their shirts.
At the PSL's BoG meeting on September 14, it was agreed they skip a disciplinary committee hearing and go straight to arbitration which is set to take place in January.
The club was reportedly never allowed to display SportPesa as per the rules of the league' and they were directly instructed to remove it.
They have also had charges brought against them in every game they have continued to wear the SportPesa logo, and they accumulated more than 20 charges by mid-October.
The club have put themselves in defiance with the league's instructions and article 9.1.16 of the NSL Handbook which gives the league the power to "suspend' fine' terminate the membership of or otherwise sanction or deal with any Member Club" found guilty of such a transgression.
Both Kaizer Chiefs and Maritzburg United were previously turned down by the BoG in the past to have agreements with betting companies' and they obliged.
Comitis, as a member of the BoG, weighed in on the matter, saying Chiefs were denied a deal because it involved the potential of a "tripartite agreement between Chiefs' the league and the company for sports betting rights".
Regarding their three-year deal with SportPesa, Comitis states that nothing from the side of the league prohibited them from concluding the deal.
"Over and above that the league met a senior counsel on the matter without any input from ourselves. They handed over the documents and minutes that they had in their possession and the SC came back and categorically stated that there were no grounds in place to preclude us from signing the deal," he said.
"So, any charge of us defying comes from a place where they had no right to be implementing such a ruling against us," Comitis said.