United States
Jill Ellis gets a reality check: Three thoughts on the USWNT's harsh loss to France in SheBelieves Cup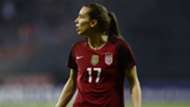 WASHINGTON — The steady rain that drenched RFK Stadium seemed apt for the occasion. After six matches of relative promise from the U.S. national team's three-back formation, France sure cast a wet blanket on that ambitious experiment.
In jumping to a two-goal lead before 10 minutes were gone Tuesday, the French put themselves on the road to a 3-0 win and the SheBelieves Cup title. The Americans, meanwhile, finished last in the four-team, round-robin tournament.
Following Saturday's 1-0 loss to England, the setback marked back-to-back U.S. defeats for the first time since March 2014 — one month before Jill Ellis replaced Tom Sermanni as coach. And it was the team's worst loss on home soil since the 2003 Women's World Cup.
"It's disappointing," U.S. captain Carli Lloyd said. "We came in fourth place. We scored one goal. I think that we've got some great players on this team, we obviously want to win, but long gone are the days of always winning. It's not going to be easy."
Goal's Week 1 MLS Power Rankings
While the U.S. had endured some growing pains since moving to a 3-4-1-2 formation in October, the alignment showcased an intriguing shift in philosophy. With an emphasis on keeping possession and throwing numbers forward, Ellis wanted her team to evolve.
"A big theme for us going through this tournament was the confidence to play, to deal with pressure, to want to try to play out," Ellis said. "The way our game is headed, who has the ball stands obviously a better chance of winning. We've tried to work on that specific thing."
Yet what worked in a 1-0 win against Germany was uninspiring versus England, and ruthlessly torn apart by France.
The warning signs were there from the game's opening minutes, as the U.S. experienced nervy moments while trying to maintain possession in its own third. Sensing vulnerability, France coach Olivier Echouafni had his side play direct and press with vigor.
Sure enough, France took the lead on an eighth-minute Camille Abily penalty after a U.S. turnover building from the back ended with goalkeeper Alyssa Naeher cleaning out Eugenie Le Sommer. It was 2-0 a minute later, as Le Sommer torched makeshift center back Allie Long to connect with a hopeful long ball from Wendie Renard.
By the time Abily made it 3-0 in the 62nd minute, the insurance goal confirmed what was already apparent: The 3-4-1-2 still has a ways to go before the U.S. should feel comfortable using it against top-notch opposition.
"It's got definite benefits," defender Becky Sauerbrunn said. "It's still a work-in-progress. I'm not sure what Jill's plan is, but I wouldn't be surprised if we continued to work on it. I'm excited to keep working on it. When we finally really get it down, I think it could be a really good formation for this team."
Midfielder Morgan Brian added: "It's a learning process, and there's growth involved. So for us, I think we played great against Germany in a three back. Obviously tonight we struggled a bit with some important things, but I think it was all on us. It was everything that we can fix — better on-the-ball decision-making and everything like that."
Here are two more thoughts from the Americans' 3-0 loss to France:
---
Long, Short endured growing pains
---
Two players who looked out of sorts were defenders Long and Casey Short, though it's tough to be overly harsh considering they're learning new roles. Long, a central midfielder by trade, has been anchoring the defense. Short is playing her natural position at left back, but filling that role in a three-defender unit is an adjustment.
"There's going to be a learning curve and you're going to make mistakes and you're going to build chemistry," Sauerbrunn said. "I think they had a wonderful tournament. I think we played the best teams in the world with some of the best attacking players that are out there. We got burnt tonight as a back line, as a team, so you just live, learn and work on it, and be better the next time."
Long's unfamiliarity at center back was of particular concern early. The 29-year-old failed to cut off the run of Le Sommer on the sequence leading to the penalty, then found herself punished for a lack of pace on the forward's goal moments later.
The third goal highlighted a weakness France pounced on throughout the match. Ellis has emphasized that her outside midfielders in the 3-4-1-2 formation are attackers, not wing backs. Seizing the acres of space between Short and left winger Tobin Heath, France fed the ball to speedy forward Elodie Thomis time and time again.
"The three back is an awesome formation I think," midfielder-forward Crystal Dunn said. "It allows us to be on our front foot. But with that being said, they have players like Thomis, who is extremely athletic, super fast, and our wing backs had to be in a more defensive position in the beginning of the game, which is unfortunate because they're also our attacking players as well."
Short used her pace to make up for that mismatch with a few well-timed tackles. But France's final strike saw Short caught too far forward, leaving a gap for right back Eve Perriset to expose on the overlap before finding Abily with an inch-perfect cross.
---
It's better to slump now than in 2019
---
As stunning as it is to see the U.S. so thoroughly dismantled on home turf, the reality is this result couldn't have come at a less consequential time. Having won the 2015 World Cup with an aging roster before disappointing at last summer's Olympics, the Americans now have more than two years to prepare for the 2019 World Cup in France.
Yes, demoralizing setbacks are never a good thing. But Ellis went all in on the opportunity to audition some young players and try out fresh tactics. A lot will change before the Americans step on the field again in a meaningful game (for a breezy World Cup qualifying tournament in 2018). All things considered, this SheBelieves Cup is unlikely to go down as more than a footnote in this cycle.
"We're two and a half years out from a big event," Brian said. "So for us, it's kind of finding out that sometimes challenges are the best thing for us. I think tonight we had a challenge, we learned a lot about ourselves and that's important going forward in the process."