Mexico
Who is Mexico's key player? Look no further than Jesus 'Tecatito' Corona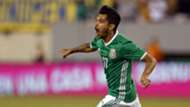 Mexico coach Juan Carlos Osorio's roster for Friday's World Cup qualification match against Trinidad and Tobago and next week's finale in Honduras showed the team he takes to Russia next summer won't differ much from the one he took to the Confederations Cup in 2017. One big difference? He hopes to be able to count on Jesus "Tecatito" Corona.
You used to need the nickname, given to Corona to draw attention from the fact he shared a surname with the rival brand of his first club. Now, though Cruz Azul goalkeeper Jesus Corona still is among El Tri's ranks, the 24-year-old winger is the player more likely to be the topic of discussion.
Mexico 13/2 to beat Trinidad & Tobago 2-0
Corona is one of the only Mexico players currently in good form with a European club who also has been able to translate those showings to the national team. Corona missed the Confederations Cup with a personal issue, an absence still shrouded in some mystery but one clearly important enough for Osorio to bring him back in as soon as possible after the major tournament.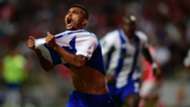 Corona didn't immediately find his form for Mexico against Panama in his first game back. He created one chance from the left side before being taken out in the 65th minute of the 1-0 win that clinched World Cup qualification for El Tri. Later, in Costa Rica, Corona came off the bench for a cameo in the 1-1 draw. He was fine but gave the ball away too frequently for a player of his standard.
Not only does the 24-year-old have a proven track record during the Osorio era, he also is one of the most in-form Mexicans playing abroad. At least, he was. Of the four Mexican internationals currently at Porto, Corona is the only one who had locked down a starting spot in Sergio Conceicao's team. But it was Hector Herrera starting each of the Dragons' last two matches. Corona came on as a substitute in both.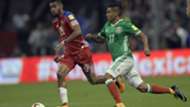 Those valleys in form lately, combined with his lack of a summer with the team, raise concern. They make these games against Trinidad and Tobago and Honduras, plus November's friendly games in Europe, quite important for Corona.  It may take a bit of time for Corona to find the same link he had before, so Osorio will keep giving him the opportunities. The coach is closing ranks and getting an experienced group ready for Russia rather than opting for his famously broad player selections.
Only Javier "Chicharito" Hernandez has scored more Mexico goals for Osorio than Corona. Before this summer's absence, Corona was was in the top three of minutes played for the rotation-happy coach. Recovering his form may be one of the biggest priorities ahead of the World Cup in Russia this summer. He may be the most important player for Mexico heading into the summer.
The biggest argument against Corona being Mexico's most important player is he's not at a position where there are no other options. If Hector Moreno goes down, there's no obvious, quality replacement at left center back. Should Miguel Layun falter, Jesus Gallardo is a definite step down in experience if not quality. The defense was, after all, the clear deficiency during Mexico's first trip to Russia and is the biggest area of concern heading toward the second.  The wings aren't an issue. Hirving Lozano's quick adaptation to Europe shows he was ready to take on the role he was given in Russia. Perhaps, though, Corona's connection with Chicharito would've served to boost the El Tri attack.
No matter where he stands in the mythical 'player importance power rankings' we've just created, Osorio and Mexico must be glad to have Corona creating on the left side again. There are other options wide, but his European experience and excellent showings when wearing green make him one of the key pieces for El Tri's quest to arrive in a fifth game and go beyond at the World Cup.