AFC Cup
JDT having their worst start to an AFC Cup campaign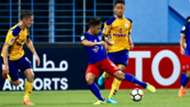 Since becoming champions of the Malaysian Super League in 2014, JDT has continually qualified to participate in the AFC Cup competition in the seasons since. Of course, as domestic league champions, they have also gone through the AFC Champions League qualification round but had to drop into the AFC Cup after being knocked out there.
Yesterday saw JDT played their third group match of the 2018 AFC Cup competition and with the 0-0 draw away to Tampines Rovers, their current amassed tally is statistically their worst ever start in the competition since they first participated in 2015.
After three matches, JDT sit in second place in Group H, three points behind Song Lam Nghe An. After a win, a draw and a defeat; JDT only have four points accumulated thus far and it pales in comparison with the 2015, 2016 and 2017 starts.
In 2015 where they eventually finished as champions of the AFC Cup, JDT won two of their first three matches in the group, beating East Bengal (4-1) and Balestier Khalsa (0-1). A loss to Kitchee in the third group match still put them at six points at the halfway stage. 
JDT went on to win their final three matches in the group to finish top of the group with a total of 15 points. The rest of the campaign that season, remains in the history books.
Then in 2016, JDT did one better, winning the first three of the group matches. Handing Ayeyawady an 8-1 thrashing, narrowly edging Bengaluru 0-1 away before a comfortable 3-0 win over Lao Toyota at home. That gave them the maximum of nine points after three matches.
Incredibly it was the perfect record for the Southern Tigers that season in the group stage, ultimately winning all six matches for a total of 18 points. They would eventually be knocked out by Bengaluru at the semi-final stage.
Last season JDT managed to stay unbeaten throughout the opening half of the group stage. Starting off with a home 3-0 win over Boeung Ket, JDT were held 1-1 at Magwe FC but roared again in the next match at home against Global FC. A total of seven points before the reverse fixtures.
The 2017 competition saw JDT advancing to the zonal semi-final stage as the best runners-up, two points better off than Ha Noi FC in the ASEAN zone. Their run in the competition would be stop in the zonal semi-final after being edged out by Ceres-Negros FC.
As records and numbers go, there's no denying that this is the poorest start to the AFC Cup campaign that JDT have done but qualification is still very much possible for them as they will play two of the three remaining matches at home and they have never lost in the regional competition in front of their own fans.