Mamelodi Sundowns
It's important to have experienced officials for big PSL games, says Sundowns coach Pitso Mosimane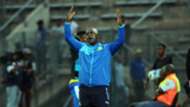 In the wake of a recent spate of criticism directed at Premier Soccer League (PSL) referees, Mamelodi Sundowns coach Pitso Mosimane has urged the relevant authorities to only put experienced referees in place for the bigger games.
Mosimane was most recently on the bench for the clash against SuperSport United where he was on several occasions left throwing his arms up in the air as he questioned the official's decisions.
The 53-year-old's frustrations with the level of officiating has recently culminated in him being sent off, and Mosimane is adamant that having experienced match officials at the helm could be the solution.
"I am happy I will still be on the bench for the next game," Mosimane was quoted as saying The Star.
"It's very difficult for the coaches. There are eight games left and we are all fighting for our own survival. It's important to have experienced officials. I am not talking about the (SuperSport) goal. I am talking about match management," he added.
Mosimane's sentiments will certainly be shared by several other top coaches, including the likes of Benni McCarthy, Eric Tinkler, Gavin Hunt and Roger de Sa who have all been very outspoken on the issue.   
"The one we had (Eugene Mdluli, in the Tshwane Derby) is a younger one, nd if he keeps going like this he can handle big games like this. There is something there," Mosimane said.
"You must understand that coaches have the pressure at this point and emotions, tempers are high. It is because of the scoreboard and the log table - nothing else. We need a little bit of experience to manage the game, but if you don't give the young referees and linesmen these kinds of games how will they get the experience? They have to get games like this," he concluded.
Next up for the Brazilians is a tough trip to Durban as where they will lock horns with AmaZulu, and Mosimane will be hoping that a strong referee will be in place as the title race reaches its business end.