Everton
'It is not in our hands' - Everton boss Silva in the dark over Gomes' future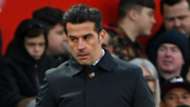 Andre Gomes' future with Everton is out of the hands of those at Goodison Park, admits manager Marco Silva.
The Barcelona midfielder made a season-long loan switch to Merseyside ahead of the 2018-19 campaign and has made seven appearances so far for the Toffees.
A spate of impressive showings has made him a fan favourite among Silva and supporters alike, but the Portuguese has acknowledged that any potential talk of a permanent switch in January isn't strictly a matter for club and player.
"It is not something that it is in our hands" the 41-year-old told Sky Sports News. "The best scenario to look at is - it is not just in our hands as a club, not just in the hands of Andre, there is a third party as well.
"Barcelona are included, let's see when we can talk about the situation."
When asked how Gomes had settled at Goodison Park though, Silva assented that the 25-year-old's integration into life in England had been helped by his teammates, adding: "I think at first, I agree, he is doing very well.
"But what is most important for me is the team and the squad, I think it is not fair just to talk about Andre.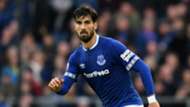 "If Andre is doing well then he is helping our squad. He is getting better every time, taking his responsibility in the squad is important for me as well.
"But if he is doing well it is because his teammates are helping him since the first day.
"He's enjoyed his first two months but let's see what we can do. We are working on that, I don't know if I [will have an] answer in one week or two weeks."
Silva faces his old club Watford for the first time since he was sacked by the Hornets in January when the Toffees host their Premier League rivals on Monday.
He, however, insists that he has nothing but the highest of praise for his former employers.
"I have a big respect for all the clubs I have worked at so far in my career," he added. "Nothing has changed for me at Estoril, Sporting CP and Olympiacos.
"I love Hull as a club, the people there are amazing, at Watford and now Everton. I have big respect for all of them.
"Some of them when one coach leaves in one way or another they are not happy, it is part of the football but I always have a big respect for the clubs I have worked at so far and with all the professionals I have worked with as well."