Indian Super League
ISL 2017: Pune City coach Ranko Popovic relishing 'big test' against Bengaluru FC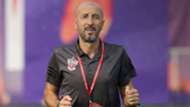 Pune City are set to face Bengaluru FC at the Balewadi Stadium ton Thursday evening and ahead of the challenging fixture, head coach Ranko Popovic isn't too concerned about his team's form at home in the Indian Super League (ISL) this season. 
The Stallions have just one win from their three home games in the league so far.
"We have to win. I think the last game (against Chennaiyin FC) we lost home was accidental. We play well and this is my opinion. I want to play the same everywhere. I want my team to show desire. Last our game at home, one set piece decided the game," opined Popovic.
"We are looking better and better game by game. Tomorrow we are up against a very good team. Tomorrow is one big test for us," stated the coach, who is focused on finding a way to get the better of the Blues on Thursday.
"For me, the only important thing is to think about how to make a win possible against Bengaluru."
Pune City's full-back Lalchhuanmawia Fanai was sent off late in their 1-0 win against Jamshedpur on Sunday but Popovic is looking forward to using his bench strength and rotating the squad.
"We will see. Maybe it is good sometimes to be surprised. It is good that we have more options. Maybe Adil, maybe Issac also. Why not? This is something that I like which is to have players who can play in more than one position. I don't know who will be fit tomorrow. I will first wait for the doctor."
Although the Pune City coach refused to tag Bengaluru as the favourites for the game, he felt his opponents have an advantage over the Stallions.
"I think Bengaluru at this moment have an advantage over all of us - because they started early and they have had more matches and competitions during pre-season. I don't want to say they are favourites for the game," the coach concluded.