Indian Super League
ISL 2017: Miguel Portugal - Delhi Dynamos were nervous after back to back defeats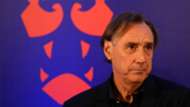 Delhi Dynamos suffered their third consecutive defeat in the ongoing Indian Super League (ISL) against debutants Jamshedpur FC at the Jawaharlal Nehru Stadium, Delhi on Wednesday. Izu Azuka's goal in the second half sealed Jamshedpur's maiden win in the tournament.
After the match, Delhi coach Miguel Portugal was asked about what has gone wrong for his team after their win in the opening match. He replied, "The reason is that the opponents are best. The opponents in the last match were the best and today too, but we only conceded one goal."
On mending the team's defensive woes and his plans to improve the attack, the coach said, "Today I tightened the defence and we only conceded one goal. It's a problem, I try to play good football, I try to thrive on ball possession, I tried changing the wingers, but what is important is finishing and its difficult for us to finish the play. I like attacking football."
On replacing Chhangte in the second half, Portugal opined, "He is a young player. The first match he played very well and then all the people, all the newspapers said he is a big player. He is very a very young player though and this part is a little difficult for him."
Dynamos' form has been a major concern for the fans. When asked about the problems in his team, the Spaniard said, "The team was very nervous in this situation. We lost the second match and then the third. This added up to the nervousness. For opening the goal, you need a perfect pass but my team is not giving me that quality at the moment. If you win in football, the nervousness is gone. You lose, it adds up."